I'm Testing The Super Bowl Stream Across All Devices: Contact Me With Questions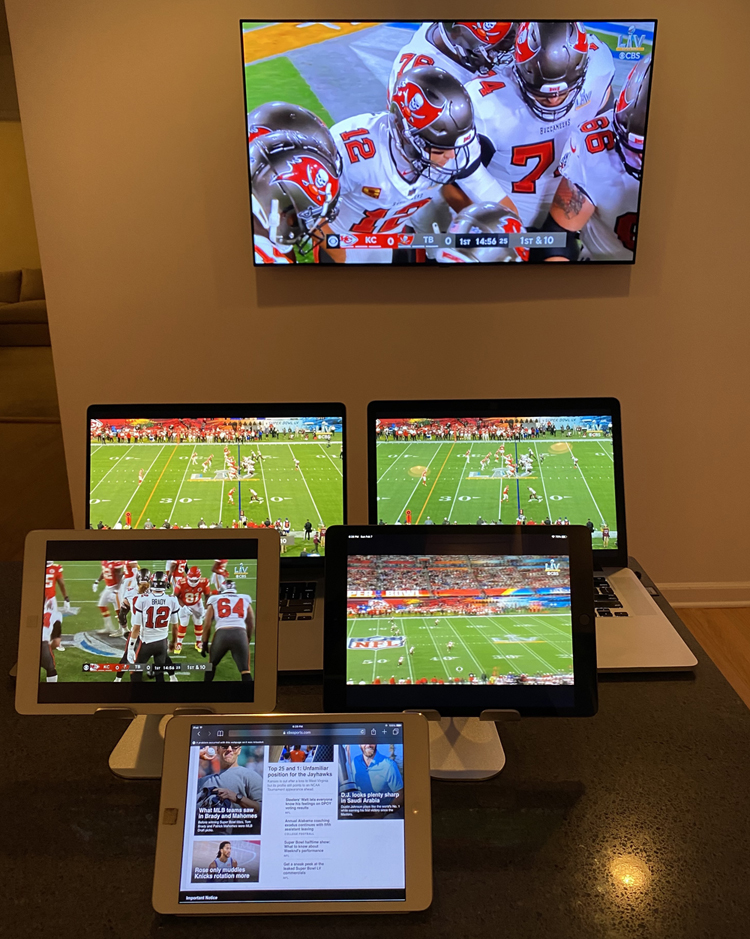 I'm testing the Super Bowl stream live across 25+ apps/platforms on Apple TV, Roku, Xbox, PS, Fire TV, iPad, iPhone, Samsung Galaxy Tab, smart TVs from LG, Vizio and Samsung. Follow this blog post for updates.
Updated Feb 9th: The Super Bowl streaming numbers are out and had an average minute audience of 5.7M viewers.
Updated 10:15pm: And that's a wrap. Other than some issues CBS had with the CBS All Access app at the start, everything else looked good for me.
Updated 7:28pm: Some users of the CBS All Access app specifically reported having trouble logging in right around kickoff, but I don't know what percentage of people it impacted. Wasn't a video problem specifically but an issue with the app. I had it running on an iPad and Fire TV but wasn't impacted. CBS has confirmed the issue has now been resolved.
Updated 6:41pm: Super Bowl stream is looking good across CBS All Access app, CBSSports.com, Yahoo! Sports across Roku, Fire TV, Apple TV and Apple and Android tablets. As you can see from the photo above, the latency across the devices varies based on hardware and app. I have 13 streams running across all devices and so far they all look good.
Updated 6:04pm: The content delivery networks (CDNs) doing the video distribution this year are Fastly, Verizon Media and Amazon Web Services (CloudFront).
Updated 5:40pm: As a refresher on previous Super Bowl streaming numbers, the 2020 Super Bowl stream by FOX had a 3.4M "average minute audience" across all digital properties (including Verizon, NFL, Yahoo and other properties). The 2019 Super Bowl stream by CBS had a 2.6M "average minute audience" across all digital properties (including Verizon, NFL, Yahoo, Tumblr, AOL and other properties). The 2018 Super Bowl stream by NBC had 3.1M "concurrent streams" across all digital properties.
Updated 5:29pm: The max bitrate for the Super Bowl stream, depending on the device you are using, will be 9Mbps. Due to the pandemic and CBS having to do so much remotely, there will be no 4K or HDR variations of the stream.
If you have any Super Bowl streaming issues today with the video or apps please email me at dan@danrayburn.com and I'll send your feedback directly to the CBS tech team. Make sure you update both the app the device OS you are using as most problems can be fixed simply by doing that. If you have a problem, please include all details when you reach out to me including device, model number, device OS, app, app version and internet connection.
My 2020 Super Bowl post is here and my 2018 Super Bowl post is here.