Live Streaming Of Super Bowl 52 Looking Good Across All Devices and Platforms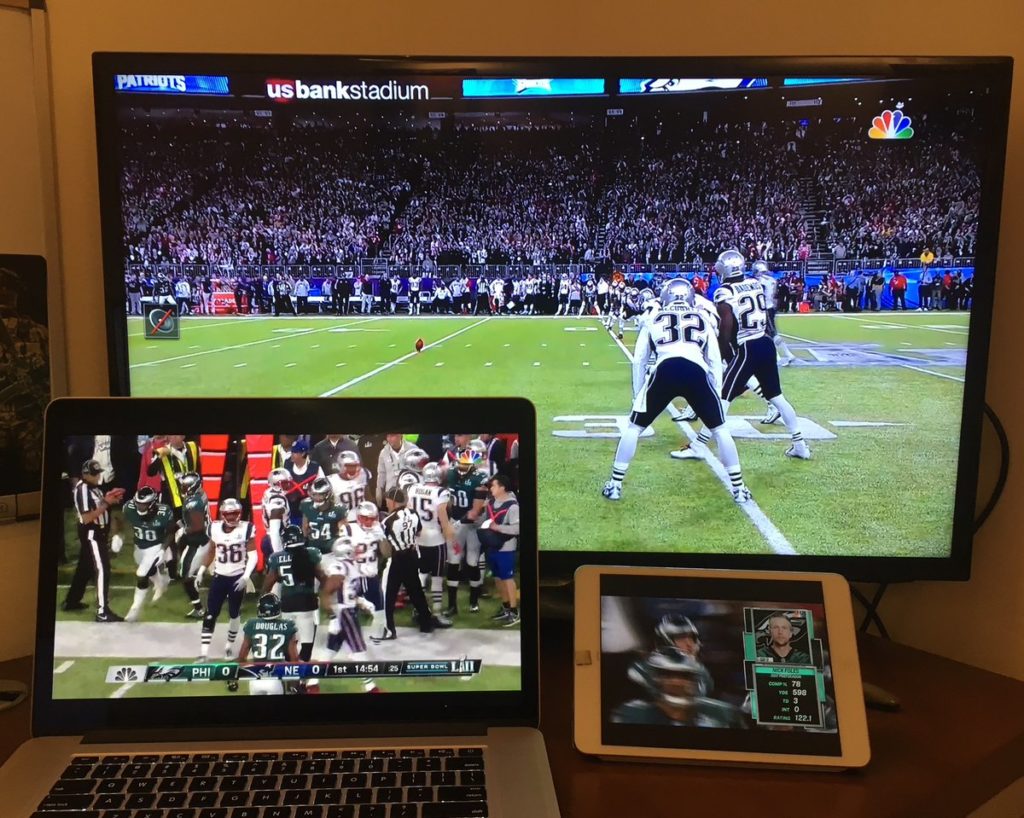 The live stream of Super Bowl 52 is looking great so far, across all the devices and platforms I've tried. I've tested the stream on Amazon Fire TV (NBC Sports App, SlingTV), MacBook (Firefox, Chrome, Safari), iPad Mini (NBC Sports App), Xbox One (NBC Sports App, Sling TV), Apple TV 3/4, (NBC Sports App) and on mobile using the Yahoo Sports App and NFL Mobile App on iPhone, both celluar and WiFi. (Updated 8:14pm ET: Sony's live streaming service PlayStation Vue is having major problems, in multiple cities, keeping many from being able to watch the Super Bowl. Seems to be fixed in some cities but not others.) (Updated 10:40pm ET: Hulu's live stream of the Super Bowl has gone down for users in some markets.)
There is a massive difference per device on how behind the stream is when compared to the TV feed as well as startup times. The Fire TV is 20+ seconds behind, and the NBC App on the iPad is taking 15+ seconds to startup. But once started, none of my streams, across any device or platform has buffered once. I don't have the encoding specs as of yet, but max bitrate looks to be about 800Kbps on mobile and 3.5Mbps on desktop, with max being 30 frames per second.
Ironically, the only problem I have seen so far is that my local NBC affiliate had an error cutting over to a commercial break at 7:38pm ET. So anyone who saw that on their stream, it's not a streaming issue. Yes, broadcast TV can still have problems but NBC re-ran the ad properly at 7:46pm ET.
NBC Playmaker Media isn't saying how many viewers they are expecting for the live stream, but I predict they will have 1M or less simultaneous streams. The third-party CDNs delivering the streams include Akamai, Amazon, Limelight, and Level 3. Will update this post if I get more tech details.
Save
Save
Save
Save
Save
Save
Save