Bitmovin Discloses Revenue in the "Twenties Million" Range and Growing to the 30s in 2024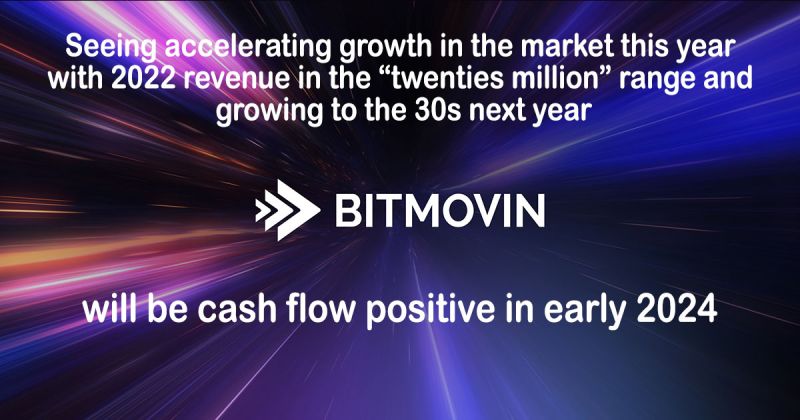 In a recent discussion with CEO Stefan Lederer at Bitmovin, the company is seeing some accelerating growth in the market this year with 2022 revenue in the "twenties million" range and growing to the 30s next year. The company will be cash flow positive in early 2024 and is increasing its margins, especially with software-only/licensing deals.
Bitmovin is seeing quite a growth in new logos again, driven by media companies needing to become more efficient, encoding costs that don't factor in CDN and egress costs, and some companies moving away from their in-house players which can be inefficient and expensive to maintain.
Bitmovin is also seeing good sales growth from the channel being deployed across the AWS Marketplace, Google Cloud Marketplace, and Microsoft Azure Marketplace, further expanding its TAM. Bitmovin was also named as a recommended replacement for Microsoft's Azure Media Services, which will be retired in June 2024, a deal that is expected to help the company expand in the market. On the self-service side, Stefan said they have signed up over 200 new paying customers so far this year.
While many think of transcoding and video players as a commodity, defined as being interchangeable with other services of the same type, it's not that simple. Encoding/transcoding services in particular are one of the basic building blocks of the industry but there are many, many differences between solutions in the market. The vendors that will succeed in the market and continue to grow revenue, while also reaching profitability, will need to be laser-focused on their product feature set. That's a strength Bitmovin has in the market with its products and vertical industry focus.
Bitmovin's last round of funding was $25 million in 2021 and they have raised $68 million to date. It should be noted that many websites that claim to list accurate revenue numbers for vendors are flat-out wrong. If you look online at Bitmovin, third-party databases and some industry analysts list their revenue as $11 million or $100 million. Do not trust any of these individuals as their numbers for vendors are always off by a large multiple.