CDN77 Discloses 2023 Revenue of $140M-$150M With 30% Year-Over-Year Growth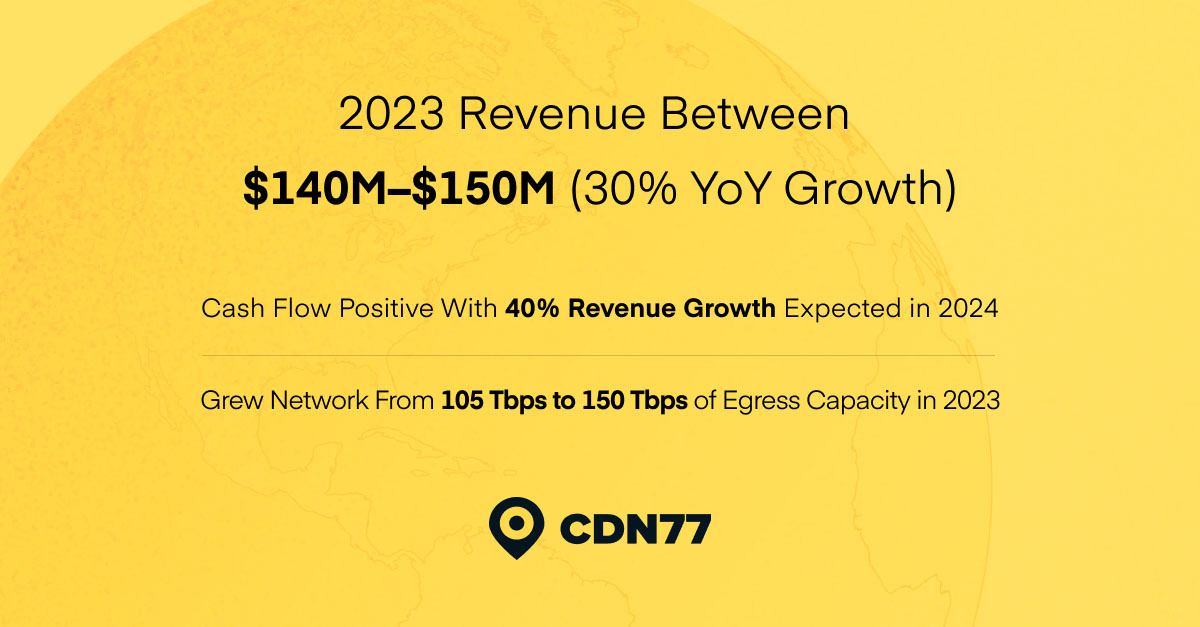 While a private company, CDN77 is allowing me to disclose its revenue and growth numbers, which comes at a great time with some of the vendor changes in the market. Revenue for 2023 will be in the $140M-$150M range, with two-thirds of revenue coming from content delivery and the other portion from infrastructure services.
The company says total 2023 revenue is up 30% year-over-year and should get closer to 40% year-over-year growth in 2024. Growth has accelerated in the second half of 2023 and the company expects it to further accelerate in Q1 of 2024. The company is currently cash flow positive and gets the majority of its delivery revenue from video content outside the US. Since the start of the year, they have upgraded their network from 105 Tbps to 150 Tbps of egress capacity.
I've been impressed with how focused and nimble the company operates. When Lumen announced they were exiting the CDN market, CDN77 quickly set up a dedicated transition team for Lumen customers. A week ago, the company announced they had already on-boarded 20 ex-Lumen customers onto their network in the past month.
While it's hard to run a profitable content delivery business, CDN77 has the benefit of having the majority of its revenue coming from outside the US and having customers in the high tens / low hundreds size. Margins on those contracts are much better and not as price sensitive to US-based delivery pricing and super large customers spending tens of millions of dollars a year who always want the lowest price. There is a profitable business to be made in the mid-tier market for vendors that specialize, which is exactly what CDN77 is doing.
If you strip out the largest CDN vendors by revenue, Akamai, Amazon, Fastly, Edgio, and Google, and exclude CDNs in China, CDN77 would be the next largest CDN services vendor in the market, based on revenue. It's great to see a vendor have a profitable business in the CDN industry while staying focused on a specific segment of the market and being strategic on how they grow their business. Thanks to CDN77 for allowing me to release their revenue numbers which helps everyone in the industry evaluate overall growth in the market.