A List of the Top 10 Largest Live Streaming Events in History and How They Are Measured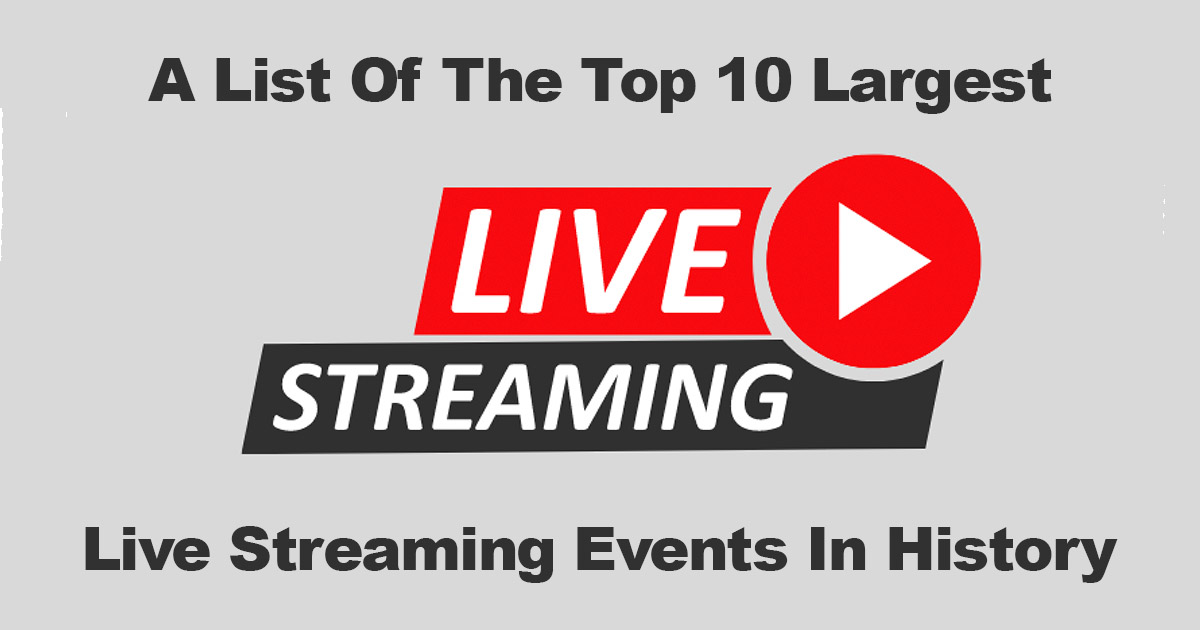 [Updated Nov 19, 2023] It has been three decades since some of the first live events were streamed online in 1993, starting with audio-only events suited for dial-up users. Since the start of the streaming media industry, many continue to debate which online event has been the largest in terms of total viewership. In all honesty, no one truly knows what the largest event is since it's impossible to fairly compare one event to another using the same methodology. No standards for reporting viewership exist and almost no live streaming events are validated by a third party. Details around unique viewers, average bitrate, and device usage are also never released.
The title of the largest live streaming event on the Internet changes depending on the methodology used by the individual. To date, Disney's stream of the India-Pakistan match of the ICC Cricket World Cup on October 14, 2023, on their Disney + Hotstar platform had the largest number of "concurrent viewers" at 35 million. However, no average bitrate number was released by Disney nor was any data about the average viewing time. The previous record of 32 million "concurrent peak viewers" in 2023 by JioCinema of the IPL finals match had an average bitrate of around 1Mbps and I would expect Disney's stream for the ICC was similar in size. Live streaming events by Amazon and others have done almost half as many peak viewers, but the average bitrate was much higher than Disney or IPL's at around 7Mbps. So while one event had a larger audience the other had a larger number of Tbps sustained and was delivered at a much higher quality.
Another problem in comparing streaming events is that none of the companies involved will discuss their definition of a "viewer". For instance, with Amazon's Thursday Night Football games, the video auto-plays in the background on the home screen of Fire TV devices and their website. If a user doesn't click on the video and engage with it at all, are they still considered a viewer? Does a viewer have to watch the video for a certain length of time before they are counted? We don't know since none of the companies who stream live events will answer these questions and their metrics could all be different. As an example, in 2020 Netflix changed the metric they used to classify a VOD viewer from anyone who watched 70% of a title down to anyone who watched at least 2 minutes of a video, long or short form. That's a big difference and a big change. On TV we have agreed upon viewer metrics and standards but with streaming neither exists. We also have different third-party companies releasing data, for instance, Nielsen and Adobe, with different methodologies.
It also doesn't help that many in the industry and the media incorrectly report numbers and don't take the time to properly read the numbers given out. As an example, in 2022 NBC Sports said the 11.2 million AMA number reported for the 2022 Super Bowl was not comparable to the 2021 Super Bowl or Amazon's numbers from the 2022 TNF games. The 11.2 million was a viewers-per-stream figure and is not directly comparable to past years when co-viewing was not as prevalent. NBC Sports said the figure comparable to past years was the 6 million number released, which marked a 5% increase over the 2021 Super Bowl of 5.7 million. Out-of-home viewing and streaming did not factor into the household rating. And yet almost no one in the media picked up on that and reported it accurately, giving out wrong year-over-year growth numbers.
Many want to compare the popularity of live streaming events on the internet to viewership numbers of events on cable TV but are missing the point that you can't compare the two from a quality of experience (QoE) standpoint. No matter where a viewer is in the country when watching an NFL game on pay TV, or which pay TV provider they are using, everyone gets the same video quality and experience. Broadcast TV has standards when it comes to video delivery and the pay TV provider owns the hardware in the home. With pay TV, we all know what 720p or 1080p means and looks like. With streaming, no standards exist when it comes to video quality or type of streaming device, and users around the country all get a different level of the video experience. One viewer on pay TV does not always have the same level of video experience as one viewer via a streaming service.
Based on the numbers I have seen released, below is my list of the top ten largest live streaming events in the industry to date. Nearly all of them are tied to cricket matches, NFL Football, and League Of Legends gaming. For the gaming events, many of them are broadcast in over a dozen languages, by multiple broadcasters, across dozens of platforms. It's not the same distribution as Amazon's Thursday Night Football games which are only available in US territories, or cricket matches that are only available on a single streaming platform, so that's another variable to point out. I may have missed some numbers released so please leave a comment on this LinkedIn post if you think another event should be added. The comment must include a link to a release, blog post, or article with numbers to be considered. I will update this list as more events take place and more numbers are announced.
Other notable mentions include the ISRO, the Indian Space Research Organization, live streaming the soft landing of Chandrayaan-3 on the South Polar lunar surface in August 2023 which peaked at 8 million concurrent viewers. Some might wonder why events like the World Cup and Super Bowl don't dominate the list which is because the majority of viewers watch those events on pay TV. Fox said the 2023 Super Bowl was the most-streamed Super Bowl event ever, with an average of 7 million streams. For FOX's streaming of the 2022 World Cup, the most-streamed contest was the World Cup Final between France and Argentina with an average minute audience of 1.3 million viewers. Outside the US the numbers are larger, but the majority of the World Cup is viewed on TV, which you can see a breakdown of here for the 2022 World Cup in Qatar.