Microsoft to Shut Down Azure Media Services Next Year, Exit The Video Workflow Business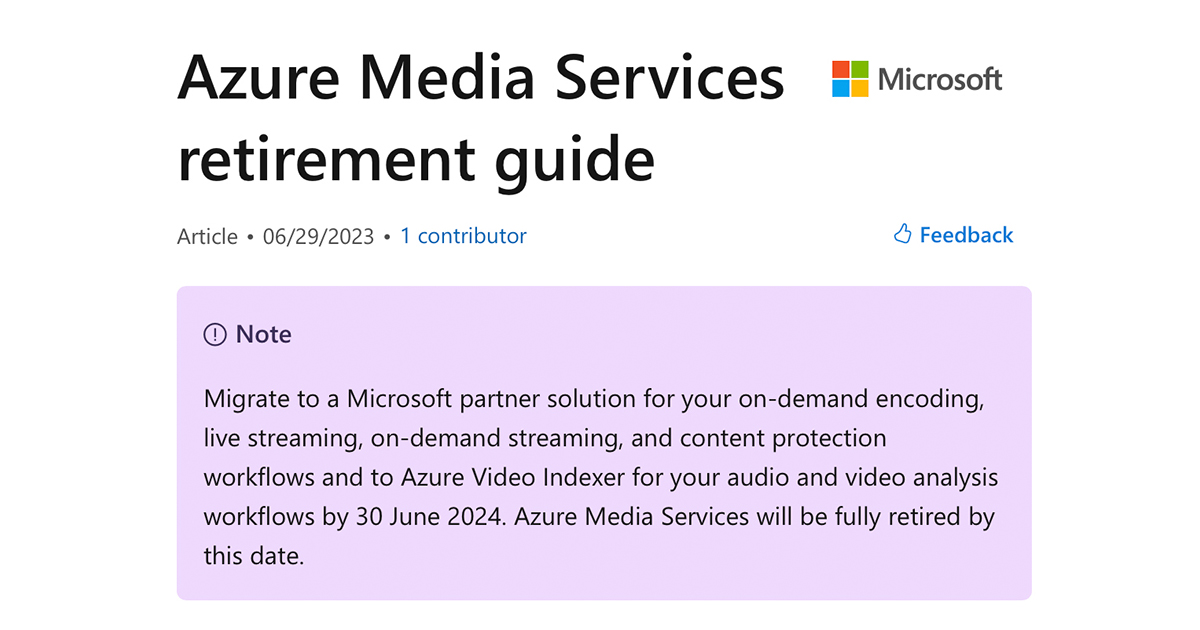 Microsoft has announced it will shut down Azure Media Services on June 30, 2024 and exit the video workflow business. This comes as no surprise since they let go of Azure's CTO, Hanno Based, in the first half of last year and started restructuring internally around that time. Various Azure Media Services pages on the Microsoft site had broken links and images as of May of last year and are still broken, having never been fixed or updated.
The Media Services revenue for Microsoft was never big enough to continue to justify their investment and Microsoft never really had an aggressive go-to-market strategy for the promotion and sales of Azure Media Sales. Microsoft says that going forward they will be "focusing on strategic areas of secular growth and long-term competitiveness for the company," and the streaming video stack won't be one of them.
Azure Media Services didn't compete for business in the market very often and was rarely seen in big RFPs, especially when compared to Amazon's Media Services platform. Unlike Amazon which bought Elemental and other companies to build and operate an in-house media workflow platform, Microsoft relied on a third-party partner ecosystem approach for encoding, packaging, and delivery. Microsoft is recommending that their current customers move over to Harmonic, MediaKind, Bitmovin, and Ravnur.
Updated July 7th: See this post from Microsoft on LinkedIn where they say, "Over the past few years, our company has undergone significant growth and transformation. As part of this journey, we have reassessed our media strategy. After careful evaluation and consideration, we have determined that Azure Media Services has not been a core component of our media strategy for quite some time."
For customers doing video delivery through Microsoft Azure, I don't expect any changes since Microsoft outsourced most of that business for nearly the past 10 years to Verizon via their EdgeCast CDN (now Edgio) and years later, added Akamai as a second CDN partner. Microsoft already announced in March they were shutting down "Azure CDN Standard" on Akamai, so it leaves Edgio as Azure's stand-alone CDN partner. Microsoft never pushed much in the way of traffic to their CDN partners so the shutdown of Azure's integration with Akamai has no impact on Akamai's revenue. Microsoft also has their own CDN, Azure Front Door, so they are also pushing more customers to use their own platform. Side note, it would be nice if Microsoft updated their CDN solutions page to list their partner's name properly since Verizon hasn't been the name of the delivery service for many years.
Microsoft exiting this portion of its business won't have much of an impact on video customers or the streaming media industry at large. I think it's good any time a vendor cuts products, services, or solutions that are not their core strength. Focus is a good thing.