Twitter's Platform Couldn't Handle 600,000 Users for Audio Only Stream of Ron DeSantis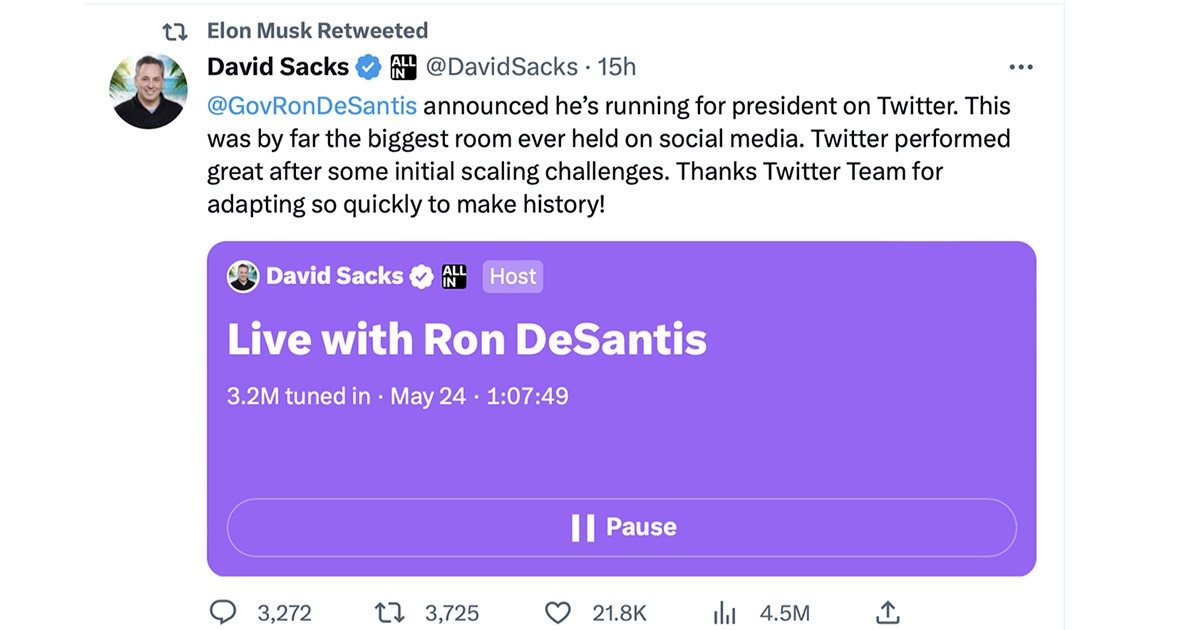 Last month, Ron DeSantis took to Twitter Spaces announcing he was running for President, via a live audio only stream. Not surprisingly, the Twitter platform had technical issues that impacted the event proving that Twitter is not a stable platform for large-scale broadcasting.
For nearly 30-minutes, Twitter couldn't get the audio stream to work with about 600,000 users waiting for it to start. There was a host of issues reported by users including with the Twitter app on phones, with some users saying it only worked in a browser. When it did get underway, the stream peaked at 257,831 simultaneous users in David Sacks main space and when combined with Elon and DeSantis' spaces, concurrent listeners peaked at "over half a million", according to Twitter. Elon Musk suggested the technical problems were due to the fact that so many people showed up to listen to the stream and that they, "broke the internet", which is laughable. Twitter didn't break the Internet, it simply broke Twitter, without a lot of traffic, showcasing just how poorly their platform scales. Twitter also called it, "the largest-ever social media gathering", and that the size of their audience was "staggering", but neither of those are accurate.
David Sacks who moderated the audio event and has some sort of technical role with Elon Musk, tried downplaying the technical problems saying, "we got so many people here that we are kind of melting the servers, which is a good sign." A good sign? If all it takes is 6000,000 users trying to listen to a low-bitrate audio stream on Twitter to "melt their servers", it shows just how poorly the Twitter platform performs. A low-bitrate, audio only stream is as easy as it gets. Last week, Jio announced they hit 32 million simultaneous users for video, for IPL and I've learned the bitrate was around 1Mbps.
After the event, some current Twitter employees told me that there was no pre-planning for the event, no stress test done and no contingency plan in place if there were technical issues. None of this is surprising since Twitter laid off so many employees tied to their infrastructure and those responsible for their servers, cloud services, storage, etc. The decision to do a live audio only stream also makes you wonder why video wasn't used? There is no better medium for storytelling than video, so I find it odd there was no video option. Post-event, Twitter said, "Ron DeSantis' presidential campaign announcement proved to be a tremendous success," and Twitter is still spinning that narrative two weeks later.