The Streaming Industry Has a Lot on the Line With NFL Sunday Ticket on YouTube TV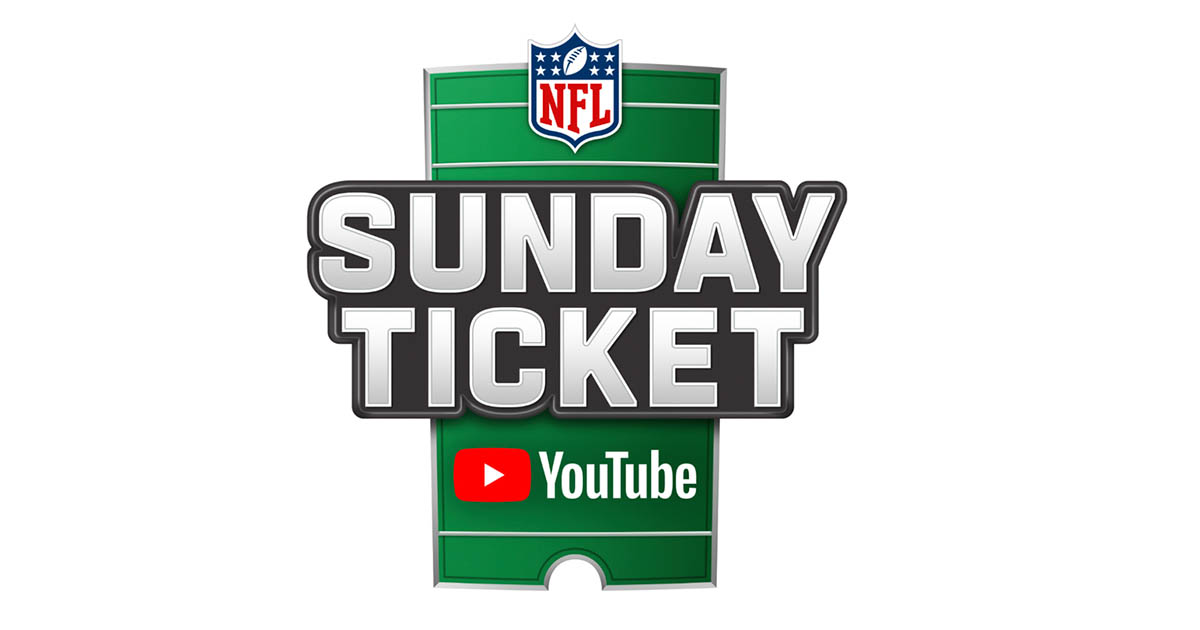 NFL Sunday Ticket on YouTube TV is the first streaming service making consumers pay $250-$440 upfront, well in advance of the season. Having spent that much money, consumers are going to demand perfection from the service from day one, which won't be possible. Even if YouTube TV delivers a flawless stream on their end with zero technical issues of any kind, users are still going to have problems with things out of YouTube TV's control including devices, internet issues within the home, and video delivery within the last-mile. The streaming video stack is extremely complex and that is multiplied even further when you have a live stream that includes content protection, authentication, and getting blackouts accurate based on location. [Updated June 23: YouTube TV had another outage for some users, the second this month, due to a "networking issue impacting YouTube's connectivity with Verizon."]
When NFL Sunday Ticket launches on September 10th, it's going to be very interesting to see what challenges users have in signing up and managing their accounts. Watching comments on Reddit, Twitter, Facebook, and other websites, consumers are still asking a lot of questions about account management and billing. YouTube TV has made it very clear there are no refunds, so anyone who might experience technical issues isn't going to be happy they can't cancel. Also, there will be no free trials of the service so consumers won't be able to try before they buy. Never before in the streaming industry have users paid so much in advance of a service without being able to try it out and not having a way to cancel.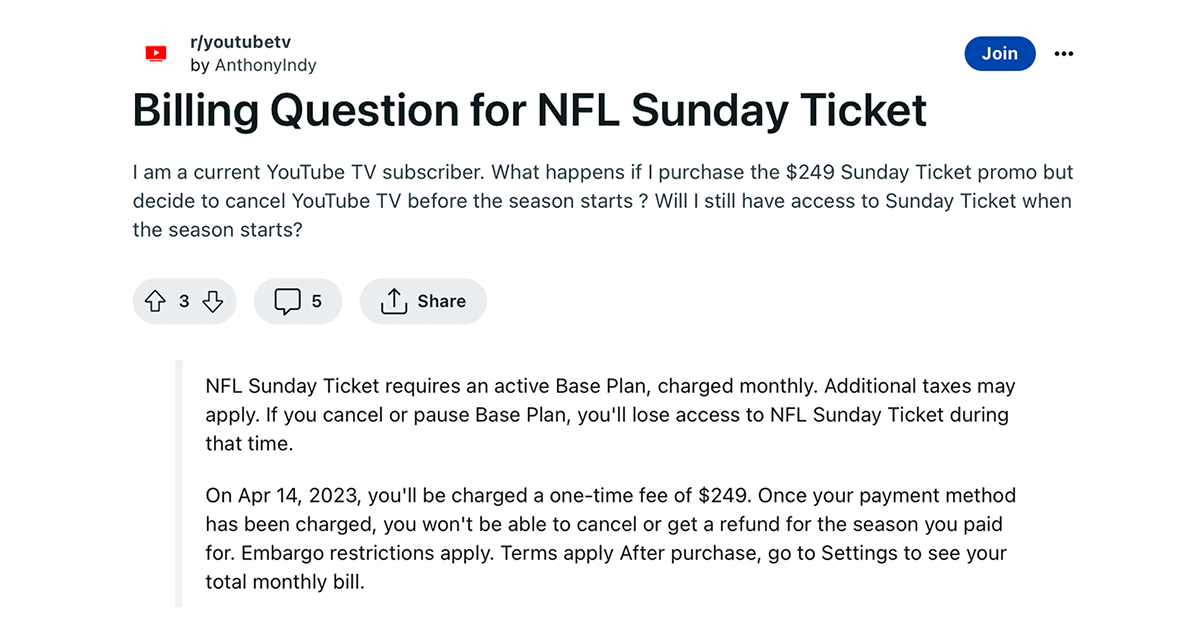 The options for signing up and billing will confuse some consumers since NFL Sunday Ticket is not (yet) available for purchase for YouTube TV viewers billed by Google Play, Verizon, or Frontier. Also, if a consumer cancels or pauses their YouTube TV Base Plan, they will lose access to NFL Sunday Ticket. Right now, one of the most popular questions being asked on Google on this topic is, "can i buy sunday nfl ticket without youtube tv." Users can get a standalone NFL Sunday Ticket subscription through YouTube Primetime Channels but no matter how much education YouTube TV does, there is going to be a lot of confusion around sign-up and usage of the service.
Even though it is very clear that the NFL Sunday Ticket is for out-of-market Sunday games, with YouTube TV also pointing out that, "locally broadcast Fox and CBS games, Sunday Night Football on NBC, select digital-only games and international games excluded," consumers expect it all when it comes to streaming. No playoff games are included with NFL Sunday Ticket and I'm sure that's going to catch some users by surprise.
It also doesn't help that there is a lot of misinformation on news sites about the service. I've read multiple "reviews" of the service where the post makes false statements including, "viewers will be able to purchase a certain number of games for a cheaper price," and "watch every regular season Sunday afternoon game." YouTube TV has made the terms for NFL Sunday Ticket very clear, but they are going to have their work cut out for them educating consumers on how it all works. YouTube TV's support is going to be very busy communicating which games they can and can't watch and what exactly they are allowed to do with their subscription, on top of all the technical questions that are going to come in. Outside of any technical issues, I believe the success or failure of the launch is going to come down to the quality of support YouTube TV provides and how well they communicate. If they farm support out to another country where they don't speak English natively like we see a lot of streaming services doing with their support, it will be a disaster for YouTube TV.
In May, YouTube TV offered a free 10-day trial, for new members only, during a limited promotion. As we get closer to the NFL Sunday Ticket launch, I'm curious to see if they will run the trial again to get more users familiar with their platform. Doing so would also help them test out their multiview option at scale since to date, the rollout has been, "limited to users who have specific equipment," with many complaints of it not working right coming in during March Madness. In fairness to YouTube TV, they did say they limited the "early access" to the feature so they could collect feedback and "improve the experience." This month, multiview functionality was removed from the platform with YouTube TV tweeting on June 18th, "we're working on some improvements to multiview, so it isn't available atm. but we'll be sure to let everyone know once we have an update."
With less than 90-days before NFL Sunday Ticket kicks off on YouTube TV the amount of work going on at the company, across the entire YouTube video stack, is enormous. People within YouTube tell me the level of planning for NFL Sunday Ticket is like nothing they have ever seen before, which is exactly what we would expect. Google knows what's at stake with the NFL and I can't imagine the pressure Google is under from the NFL to deliver a great user experience from day-one. I'm rooting for the Google and YouTube TV teams to have a flawless execution not just week one, but every week throughout the year. If they can keep any technical issues to a minimum, and short-lived, plus provide accurate and timely support, it helps the entire streaming industry. If YouTube TV has any widespread problems with streaming the NFL Sunday Ticket, the backlash from many will be that streaming is not ready for prime time and can't be used as a replacement to broadcast TV distribution.
Note: Many in the media keep writing that YouTube TV, "has over 5 million subscribers", which is not accurate. As stated on the YouTube TV blog and in the press release with the NFL, YouTube TV, "has over 5 million subscribers and trialers in the US," based on their July 2022 announcement.