Netflix's Open Source Deal with GPAC Gives Them a Competitive Advantage for Video Packaging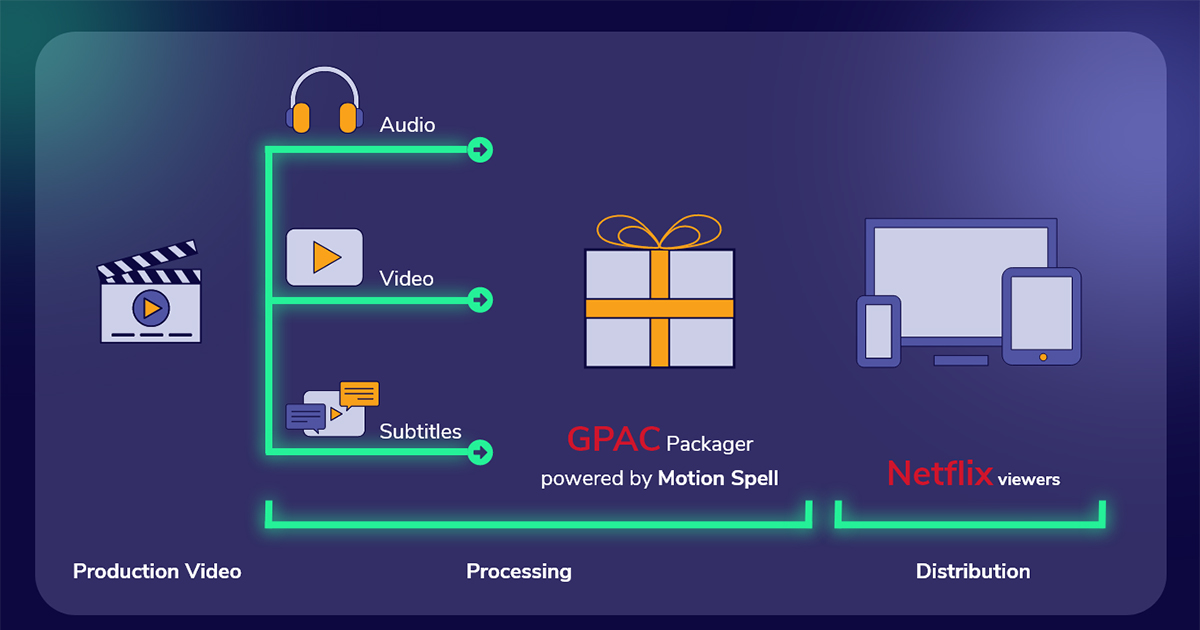 Motion Spell, the exclusive commercial licensor of GPAC, announced the conclusion of an 18-month transition phase working with Netflix for the integration of GPAC Open Source Software into Netflix's worldwide content operations. This gives Netflix a lot of flexibility and being able to adopt new technologies, especially with them having recently started publishing AOM's AV1 packages. From a competitive landscape standpoint, it also gives Netflix an advantage allowing them to move faster than their competitors.
Whether Netflix wants to do interactivity (e.g. Bandersnatch), live streaming or experiment with new codecs (xHE-AAC), the GPAC based solutions enable it. Speed is key and it seems that Netflix is moving faster than their competitors. But it's not only Netflix. Facebook also recently mentioned how they leveraged GPAC's MP4Box to alleviate Instagram's video compute times by 94%. This choice prevented a shortage within 12 months in the capacity to provide video uploads for everyone.
Internally, GPAC came out as the best packager as a result of Netflix's internal evaluations and while Netflix doesn't communicate openly about the cost effectiveness on their business, there is value is the cost efficiency. "Open-source software is free. There are licensing costs, of course, but also distribution costs. Being smart and using an efficient packager should not be underestimated. The real question for any streaming service is, how much does a bad packager cost them? GPAC is free, efficient and flexible. GPAC is efficient because the GPAC source code has been scrutinized by thousands of eyes. For most companies, in an area where almost nobody is profitable, cost is important," says Romain Bouqueau, CEO, Motion Spell.
Choosing GPAC also allows Netflix to play their part as a leader. For example, Netflix gives weight to some MPEG standardization contributions supported by the GPAC team and Netflix has also paved the way around accessibility in OTT. GPAC is quickly becoming an infrastructure for content packaging. GPAC's model towards business is to rely on the combination of offering commercial licenses and professional services (Motion Spell's GPAC Licensing).
GPAC makes all of this possible because the project has its roots in multimedia in the widest sense – not only TV-like experiences. It is a true open-source project with a community made of enthusiasts, researchers, and commercial users.