Some Advertisers Say Amazon Had 10 Million – 11 Million Viewers For Thursday Night Football, Unknown How Many Were Unique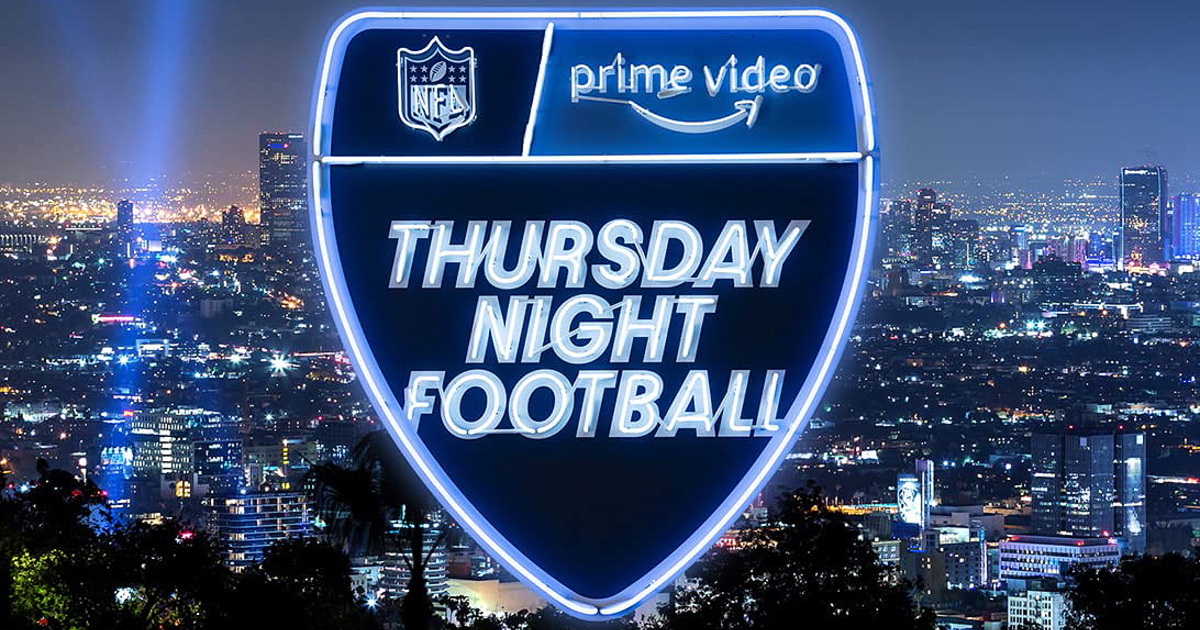 [Updated 3:27pm] Amazon has put out a release saying they averaged 15.3 million viewers across all platforms for their first exclusive TNF game. Their number, which is different from Nielsen's, includes set-top boxes, connected TVs, web and mobile, as well as Twitch, local over-the-air stations, out-of-home viewing, and NFL+.
[Updated 11:33am] The 13 million figure includes local over-the-air simulcasts in the home markets. Excluding those simulcasts — around 602,000 viewers on LA FOX affiliate KTTV and 555,000 on KC NBC affiliate KSHB — Amazon Prime alone averaged in the neighborhood of 11.8 million.
[Updated 11:12am] CNBC is reporting that "according to Nielsen", Amazon averaged 13 million viewers based on data released by the company. As of now, there is no press release on the wire or on Nielsen's website yet.
[Updated 10:14am] Shortly after posting, I see one article is reporting the number is 13 million viewers, with the source being Nielsen, but I don't see any official release from Nielsen as of yet. I see a second article saying the number was over 15 million viewers, also attributed to Nielsen, so lots of conflicting numbers. I'll update this post if/when Nielsen puts out a release.
———————————————
Multiple advertisers tell me Amazon had between 10 million and 11 million total "viewers" for their NFL Thursday Night Football game on September 15th, with the actual number being closer to 10.5 million. A week after the game, Amazon and Nielsen still haven't put out any numbers, which is odd. Leading up to the game, the media reported that Amazon was telling advertisers they were targeting 12.5 million viewers. If both of the numbers being reported are accurate, Amazon fell a little short of their goal. Amazon has been quoted as saying that their "audience numbers exceeded all of our expectations for viewership," but we don't know what their expectations were. If they were 12.5 million viewers, then the 10 million – 11 million number sounds low. [Updated: The numbers are low as Nielsen says the number is 13 million "average" viewers.]
Another key point is that the term viewer is vague, so without knowing how Nielsen and Amazon define what a viewer is, there's no way to know what the true reach of the audience was. If a user streamed the game at kickoff time and then left, only to come back later to the game, were they counted as a single viewer or two viewers? Also, of the total number of viewers that were counted, how many were unique? And how is Nielsen counting multiple people in the room watching from a single device on a large screen?
We also don't know what type of engagement Amazon saw during the game since the live stream was embedded on the home page of Amazon.com. If a user was on the website to search or buy something, but never made the video window larger, or clicked within the video window at all, were they considered a viewer? And, to be counted as a viewer, did the video stream have to play for a minimum amount of time? I don't expect Amazon and Nielsen to give out many details, but knowing the number of unique viewers, average viewing time per user, number of simultaneous viewers (not just Average Minute Audience) and breakdown of viewers on large versus small screens is needed to judge the success.
On the tech side, from what I saw personally and was reported to me by other viewers, the lowest bitrate looked to be about 5.5Mbps and the highest around 7.5Mbps. So that would put the average bitrate delivered at around 6Mbps. For those like myself that were experiencing delivery problems, I didn't see any issue with the multiple CDNs I saw Amazon using. All issues seemed to be with some ISPs and in particular, Comcast. I don't know what the root cause of the ISP issue(s) were, but for all the talk within the industry of live events being "limited" by CDN capacity, the problem on QoE was once again down at the last mile level, not the CDNs.
The media has reported that based on an internal email Amazon sent out that Amazon, "saw the biggest three hours for U.S. Prime sign ups ever in the history of Amazon." We don't know exactly how many signups Amazon got and the key metric to watch is how many stay on after the 30-day free trial ends. For some NFL fans like myself that only watch one team, there is no reason to pay for a Prime account past the 30-day free trial if your favorite team doesn't play more than once on TNF, or at all. For instance, the Giants are never on the TNF schedule and the Jets only play once on Thursday.
During the game I saw people on Twitter talking about how they shared their login with others so it would be interesting to know the total number of Prime accounts that were used to stream the game. It won't be a 1:1 ratio of accounts to viewers, so the number of Prime accounts used would have to be less than 10 million, if the 10-11 million viewership number is right.
It's interesting to see how Amazon isn't acknowledging any of the technical issues in how they talk about the event. In their email to employees, Amazon references the, "stellar production of the game, to the quality of the stream customers watched at home." We don't know the exact number of viewers that had problems with the video and audio, but it was not isolated. Amazon's President and CEO pushed out a Tweet during the game and was quickly met with 194 comments from viewers complaining about the quality of the video and/or audio. Across social, there was thousands of negative comments on the quality of the stream with viewers experiencing technical issues. Amazon should just address the issues some viewers had and talk about how they plan to improve upon them for the next game.
I'm sure some will say this was Amazon's first TNF game this year so it is expected to get better over time, which very well could happen. But they are missing the point. Unlike other sports like MLB that have been streaming for 20 years, historically the NFL has always been a sport that most viewers have watched via cable or satellite. It works every time, with nearly the exact same quality no matter the city you are in. The cable company controls the set-top-box you are getting the video from and the pipe it's coming across. The experience a viewer has is not based on their technical setup and it always works. It's easy to use.
Streaming is the exact opposite and "maybe" you can have a good experience, or maybe not. In some cases, Amazon might control the hardware device, but they don't control the last mile and can't force ISPs to do what they want. Amazon can produce the best quality video possible, but once it hits the ISP, the success or failure of the stream is now in another company's hands. Streaming can't replace live cable TV as a distribution medium with the same reliability, scalability and stability. This is the same with any streaming service not being delivered by a cable operator and as a result, for the first time, the NFL is making fans wonder as they go to watch their favorite team "if" the video will even work. That's not something NFL fans have had to wonder about in the past – until now.