Live Blogging Amazon's NFL Stream: Video Quality, User Feedback, Player Functionality and More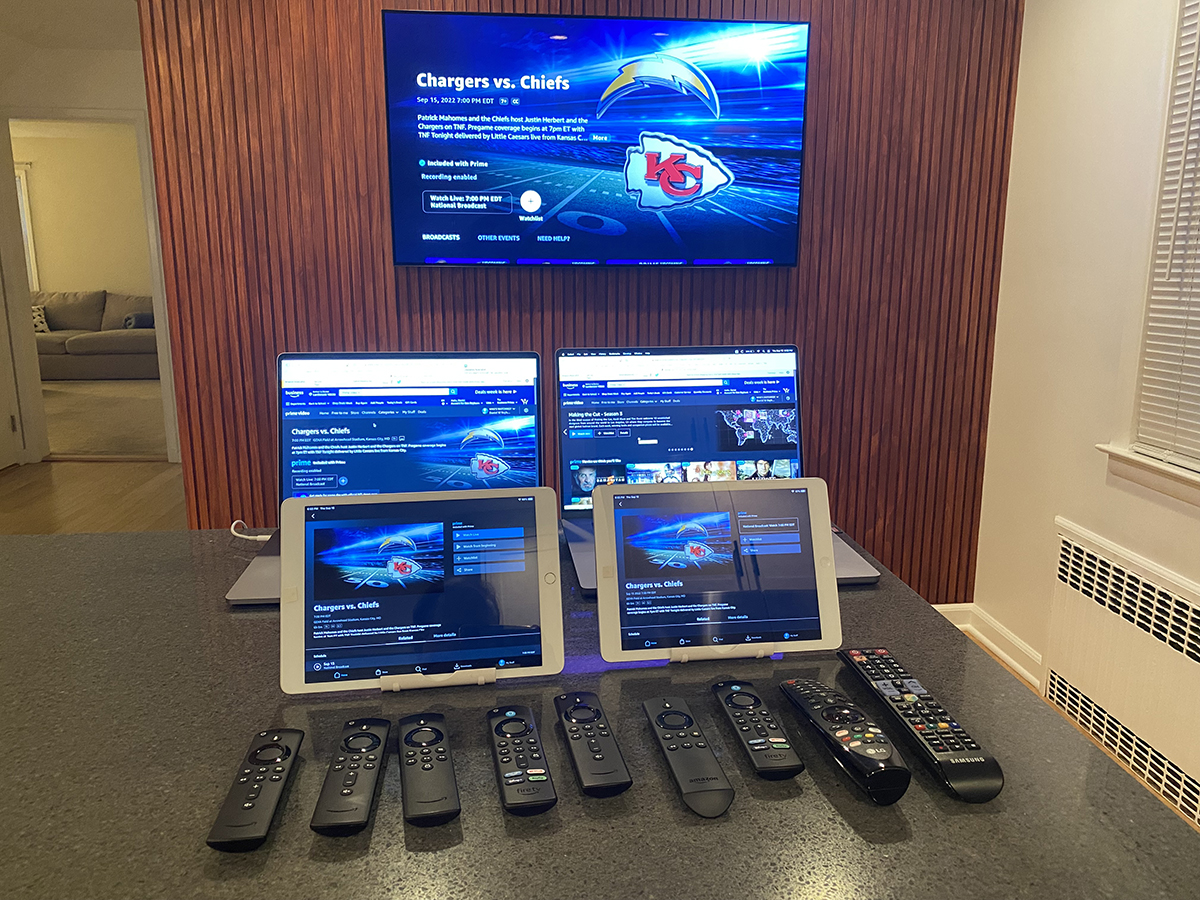 [See below for updates] Starting at 7pm ET, I'll be live blogging Amazon's Thursday Night Football video stream across many devices and watching comments from users with their feedback via social and chat rooms. I also have users from around the US dumping me their Charles logs so I can see the quality others are getting. (Contact me if you want to help provide feedback) I'll provide as many technical details on the stream I can throughout the night. I'll break out where I see any technical issues versus people complaining they can't see it due to user generated issues or confusion on the service.
11:13pm ET: Thats's a wrap. Overall, terrible job by Amazon Prime Video with the audio and video quality in particular, but a host of other issues as well. Their support clearly isn't ready to field questions from viewers and the website has conflicting support details. Some ISPs had some major issues resulting in poor video quality and long startup times. Numbers will be out soon from Amazon and Nielsen, but don't expect anything more than the AMA (Average Minute Audience) which won't tell us how many users who were watching had terrible quality. Don't expect any data to come out on max bitrate, startup times or what percentage of users had rebuffing. Also, how many refunds did Amazon give out? Doubt they will say.
11:00pm ET: All users are supposed to be able join the live broadcast, pause, and rewind up to 15 minutes from the point that they turned the game on, but am seeing some comment that they can't pause or rewind at all. To watch at any point in the game, users would of had to have turned on the DVR feature before the game started.
10:44pm ET: Amazon has been offering some users a 1-month refund for issues they are having with video quality. They just offered me one, (I declined) but that's not a good sign for them from a P&L standpoint. They paid a lot for these games.
10:12pm ET: Some users reporting Amazon support being unavailable with a message of, "We're having trouble receiving chats right now. We're very sorry and we expect to have chat service fully functioning again soon. Please try again later or contact us by phone or email." At one point, support told me to email them a screenshot to "cs-reply@amazon.com" but it bounced back saying "this address does not accept incoming direct e-mails".
9:55pm ET: The number of users reporting video quality issues on Twitter has been constant all night with no slowdown. Amazon support told me they had a "server issue" but I don't think the support person has any idea why there are problems. I do not believe this is a third-party CDN issue, it looks to be some last-mile ISP issues for at least two ISPs I'm aware of. Not sure if I will name them or not, let's see how Amazon addresses the tech issues after the game. If they play down the issues and pretend it wasn't a big deal, that would be very bad on their part as they weren't "isolated" issues for just a few viewers. Also, it's not as if this game was in 4K or they were trying to deliver high-bitrates.
9:11pm ET: Amazon Prime support isn't trained or ready for this game telling me I need "15 Mbps for Ultra HD", but the game isn't in UHD (website says 25Mbps for UHD). I've dealt with six different support people now, asking me for my "purchase ID" and one telling me to do "ASTRO troubleshooting," which I don't know what that is and he could not explain it.
8:56pm ET: Some ISPs are clearly having some issues with QoE across their network which looks to be the root cause of some of the video quality issues. One ISP told me they are seeing "issues", but I'm not going to name who they are.
8:45pm ET: I've been watching the PrimeVision feed but have yet to see any stats "overlaid" on top of the video. Unless that's not how it's suppose to work, but I only get stats around the video.
8:37pm ET: On my MacBook Pro (16-inch, 2021), it's averaging 10 seconds for the stream to start.
8:28pm ET: I can't keep up with the number of users reporting issues on Twitter with the video quality and/or audio sync issues, which are the primary complaints, also video frozen or video being pixelated. A complaint is coming in about every 10 seconds on Twitter right now.
8:19pm ET: Amazon is working with NBC Sports to produce the games, utilizing a lot of the backbone of NBC's infrastructure at 30 Rock and Stamford for delivering the signal, commercial insertion, and overall master control.
8:08pm ET: I'm running the stream on just one Fire TV Max and it froze on me. Had to restart the device to get it stream again. Some can't get the stream at all with an error of "Please try again later".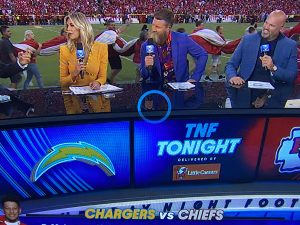 8:02pm ET: Long list of users on Twitter complaining about the "picture quality", "the picture is terrible", "video is choppy as hell", "picture is terrible", "video quality is terrible", "not clear at all".
7:53pm ET: One of my Amazon Fire TV sticks is getting an "error code 9001" when I try to restart the stream. Amazon support chat was very quick to get someone, but they didn't know the cause and suggested someone call me which they did. Problem is that Amazon tech support is asking me for an "order ID" for my purchase, which of course doesn't exist. I've now been passed to a third support person who's asking me for the "name of the football game". Have now been passed along to a 4th person. 42 minutes into being on the phone, support doesn't know what the error code means.
7:41pm ET: Amazon has posted a message on their website saying, "We're sorry for the inconvenience, we've temporarily disabled several rows on the homepage of Prime Video. To access any show you want, please do so via search and navigate to the next episode you're interested in." I have seen a few users commenting that they cannot find anything relating to TNF on their Prime feed, so I'm speculating Amazon has made this change to make it easier to navigate to the game.
7:31pm ET: Amazon's help page says you need "3MB/s for SD content, 5MB/s for HD content and 25MB/s for UHD." But the TNF stream is not available in UHD, so that might confuse some users. Amazon has a users forum setup here for tech questions and issues.
7:27pm ET: Some users are getting a "error code 9001." Unless you have enabled the record option previously, you will not be able to watch past Thursday Night Football events. But I don't know what that error code means with regards to the live stream.
7:20pm ET: The audio feed and mix for the pre-game is a bit off, volume changes between the show and commercials and isn't balanced right. I'm seeing comments from others of "TV is almost maxed out on volume and the commercials are blaring loud." My TV volume is on 10 and it's too loud.
7:15pm ET: A few comments on social media of users saying they need to "improve the video quality" and "upgrade the bandwidth and get this stream straightened out", "the image quality sucks. Is it going to get better for the game?" and  "we want 4K video!!!" Also a comment of, "Quality is horrible for the game PrimeVideo. Looking at my router stats, the bitrate is the issue. Fix it!"
7:09pm ET: Some users on social media are reporting audio syncing issues. I am seeing slight un-sync issues at times, but for me, it's very, very slight and almost unnoticeable.
7:03pm ET: The pre-game stream is live and running across all my devices. Looks good on smaller screens, but on 65″ and 70″ TVs, you can see it's a low bitrate and slight stuttering at times. Audio is perfectly synced for me. I do see some latency across all devices with some devices 2-3 seconds behind others.
Testing Details: My running two different ISPs at home with a 300Mbps with Verizon FiOS and 300Mbps with Optimum. I'm testing on 7 different Fire TV Sticks/Cube (Fire TV Stick 4K Max, Fire TV Stick 4K, Fire TV Stick Lite, 2nd-Gen Fire TV Cube), MacBook Pro's, iPad's, iPhone and smart TVs (LG, Samsung, Vizio), with all having the latest OS and app versions installed. All Fire TV Sticks and smart TVs are connected via ethernet and tablets are on WiFi. iPhone testing is being done with both WiFi and 4G (Verizon).