Growth of vMVPD Services Stalling: Sling TV Added Only 260,000 Subs in 4 Years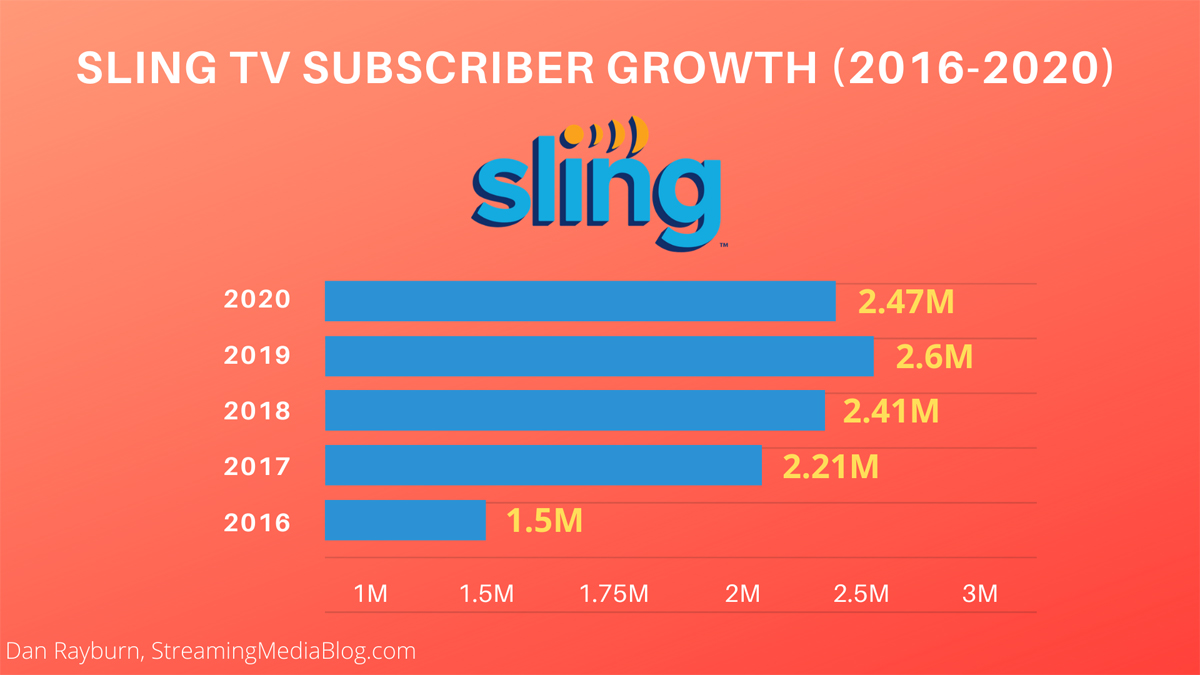 In a previous blog post I detailed how the pay TV market lost at least 5.6M subscribers in 2020. While that would seem like good news for live linear streaming services like Sling TV, Hulu, YouTube TV, Fubo, DAZN etc. to date, no live streaming service has seen much in the way of subscriber growth. As an example, Sling TV, the first service to the market and the lowest priced, grew by only 260,000 subscribers over the past 4 years. That's an average of only 65,000 net new subs per year, when pay TV lost between 4-7 million subscribers each year, over that same time period.
Hulu, which saw some big growth in 2019, with Hulu + Live TV subscribers going from 800,000 in May of 2018 to 4.1 million subscribers at the end of 2019, lost 100,000 subscribers in 2020, to end the year with 4 million subscribers in total. YouTube TV ended 2019 with 2 million subscribers and grew to 3 million subscribers as of October 2020, which is the last time Google provided updated numbers. It's possible YouTube TV could have added a lot more subscribers in Q4 of 2020, but not to the tune of how many pay TV subscribers were lost in the same quarter. Fubo TV did see some small growth last year, closing out 2020 with a total of 545,000 subscribers, adding 229,211 subscribers over 2019.
It's been reported, but not confirmed, that live streaming service DAZN had 8 million subscribers at the end of 2019, but then lost subscribers in 2020 and have not gotten back to the 8 million number as of yet. To date, the company hasn't published any official numbers so we don't know how accurate the estimated numbers are. Then there is Sony Interactive Entertainment, which shut down their PlayStation Vue service in January of 2020. It was estimated they had well less than 1 million subscribers, but to date we've never seen any confirmed numbers on that either.
Between one-off big events and platforms with targeted content, live streaming saw a huge amount of growth in 2020. Content from the likes of Twitch as well as Amazon Prime Video, with all the major sporting events they bought the rights too, saw the total number of hours viewed online grow by huge percentages years-over-year. But we have not seen the same growth with regards to live linear services because the services have not evolved into what consumers were told they would become. From day one, the main value proposition vMVPD services pitched to consumers was the cheap cost, when compared to cable TV.
While many services started out that way, they all quickly raised pricing multiple times. The average live streaming package that looks most similar to cable TV now costs $65 a month or more. In January of 2019, Hulu + Live TV cost $40 a month and less than two years later, the price is $65 a month, which is a 38% rate increase. When YouTube TV raised pricing from $50 a month to $65 a month in June of 2020, their rational for doing so was that they were adding eight ViacomCBS's channels to the lineup. However, there was no option to keep the $50 package and not take the new channels. You had to accept the new pricing and new channels even if you weren't interested in them. Sounds exactly like pay TV.
Sling TV in particular has called their service "A La Carte", but you have to buy packages of many channels all together. Adding a premium service like HBO to your lineup for an additional fee per month is not "A La Carte". The reality is, live streaming services are simply the new pay TV bundles. They are priced like pay TV, bundled like pay TV, and have more restrictions than pay TV, most with a limit on the number of concurrent streams. Companies have used terms like "personalized" and "custom", to describe how they differ from pay TV services, but there is nothing custom or personalized about having to buy bundles of channels and not being able to opt out of higher pricing with channels you don't want to watch.
One could easily point the finger at the live linear services themselves and say it's their own fault for not growing when they keep raising rates. But the real problem is that in most cases, these services don't own the content and the rates they are being charged by the content owners keeps going up. So the live linear services are in a tough spot as they need the content, but are handcuffed by the pricing and how they package the channels together. Their success, or failure, is really being dictated by the content owners.
If Dish and AT&T weren't the owners of Sling TV and what is now AT&T TV, I'd argue those two streaming services would have already left the market, just like PlayStation Vue did. The business economics of them standing on their own, as profitable and growing streaming services, without backing from a cable TV operator simply wouldn't be possible. Content licensing costs are simply too high, along with all the other costs of video ingestion, transcoding, protection, packaging, delivery and playback. They could try the route that Fubo TV is doing right now as a stand-alone company, but you'd need a lot of money to try and become profitable. Fubo TV has recorded a net loss of $402.5 million through the first nine months of 2020 and has negative gross-profit margin. In other words, trying to be a vMVPD on your own isn't easy and scale doesn't change your P&L in a positive way.
Even if any of these live linear services get to some sort of real scale, there is little to no profitability on the stand-alone streaming service. Using it to reduce churn inside a cable TV operator or trying to sell other bundled services around it, maybe they have more value. But in the next few years I suspect we'll see some of the current live linear services exit the market completely. In a follow up post, I'll outline why I think Hulu will exit the live TV market in the next few years.