US Pay TV Losses Hit 5.6M Subs in 2020, as vMVPD Live Streaming Growth Also Slows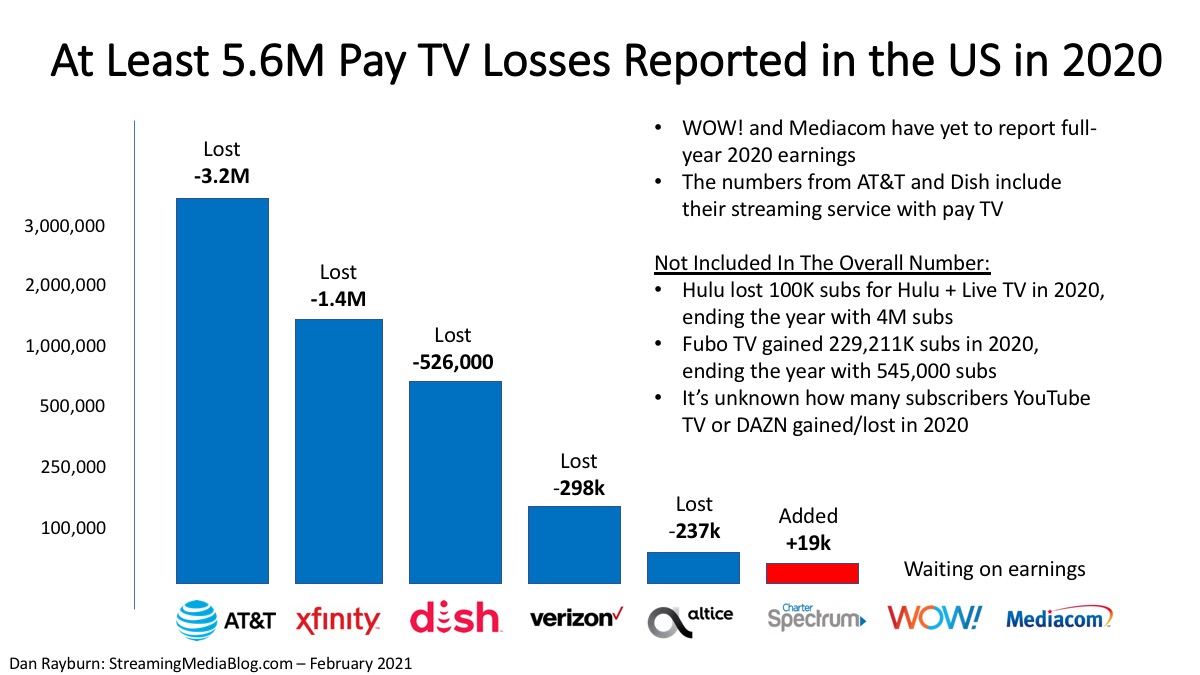 With the majority of cable and satellite TV operators in the US having reported Q4 and 2020 earnings, combined, they lost at least 5.6M pay TV subscribers last year. That number includes lost streaming subscribers for Sling TV and AT&T. Operators WOW! and Mediacom have yet to report Q4 and full-year 2020 earnings, but as small as they are, they won't push the numbers either way by much.
These pay TV losses won't surprise anyone who follows the cord cutting trend, but what might surprise many is that vMVPD streaming services are not gaining the subs lost from traditional pay TV operators. Year-over-year, Sling TV, AT&T and Hulu all lost live subscribers last year. Fubo TV gained 229,211 subscribers and DAZN and YouTube won't say how many subscribers they gained or lost in 2020. The fact live streaming services haven't gained many subs isn't surprising since all live service saw price hikes last year, with the average package comparable to pay TV starting at $65 a month. Make no mistake, live OTT is simply the new pay TV bundle. It can be called something else, but in reality it is priced like pay TV, bundled like pay TV, and has more restrictions than pay TV, with a limit on the number of concurrent streams from one account.
With all these hard numbers one has to ask the question, where are all these cord cutters going and do consumers really care about live TV anymore, outside of sports and some other specific big events? As viewers content habits have shifted to an on-demand world over the past few years, one could argue that without sports content, live streaming would be a thing of the past. The Grammy's, Olympics, news and some other one-off events would still garner interest, but it's clear that the live OTT services simply aren't resonating with consumers in large numbers.
Live content is a different type of viewing experience and Twitch and other platforms like ESPN+, MLB.TV etc. are seeing some growth in consumption, but that content is targeting a very specific demographic, with specific content, and isn't hitting the largest swath of the market. As an industry, the real question we have to ask is, what does the future of live video consumption look like and who's going to control the market? In the near term, live TV via cable or streaming won't be a linear experience as we think of it today.