Paramount+: 65-75M Subs by 2024; $4.99 and $9.99 Packages; Select Films Streaming 30-45 Days After Theaters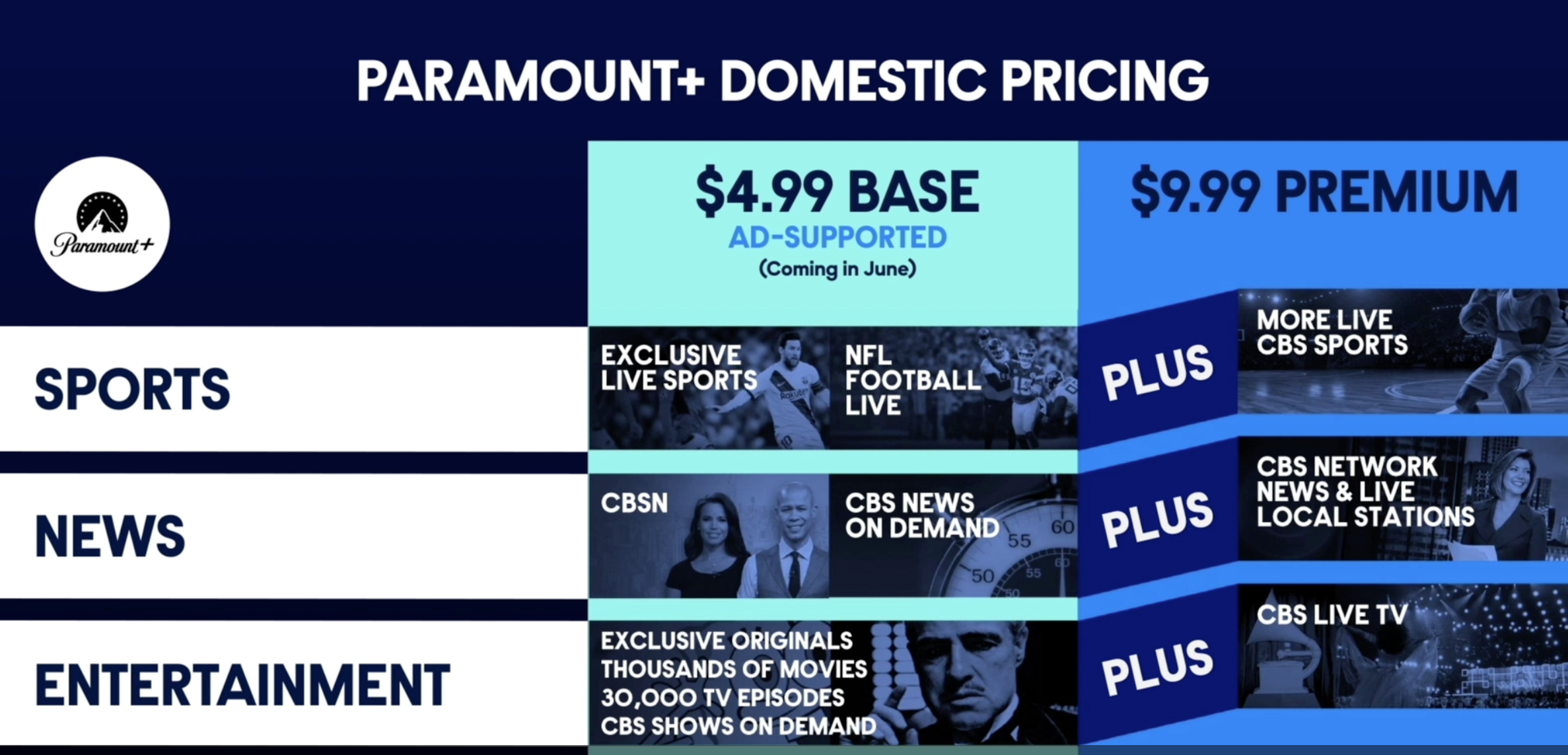 ViacomCBS held their big streaming service reveal for the March 4th launch of Paramount+ and the company didn't disappoint. There was a lot of news to digest from the event, both in the volume of new content they highlighted coming to the service, as well as the back catalog of movies and TV shows that will be available. But the biggest news was the announcement that popular Paramount films will come to the streaming service 30-45 days after their theatrical run. All others will come to the platform at a later time, with the company saying some as early as 90 days. Here's some other key takeaways:
Paramount+ will have two packages in the U.S., an ad supported offering at $4.99 a month (coming in June) and a "Premium" offering for $9.99 a month. Premium will get you access to live TV with news, local content and more live sports
Expect 65-75 million subscribers globally for Paramount+ by 2024. That goes along with their projection of 100-120 million MAUs for Pluto TV and an estimated total streaming revenue of $7 billion by 2024
Paramount+ will have access to MGM films, due to their deal with EPIX, extended through the end of 2023, giving Paramount+ the new James Bond title No Time to Die, amongst other films
All Paramount+ original series will be made available in 4K with HDR and Dolby Vision
Similar to CBS All Access, some content will be available for download to mobile devices
By summer 2021, Paramount+ should have more than 2,500 movies
A TV show based on the Halo game, being produced by Showtime, will debut on Paramount+ in Q1 of 2022
At some point, ViacomCBS will have an archive of their launch event available on their website here.