AT&T Sells Stake in DIRECTV to PE Firm: New Video Unit Combines DIRECTV, AT&T TV and U-verse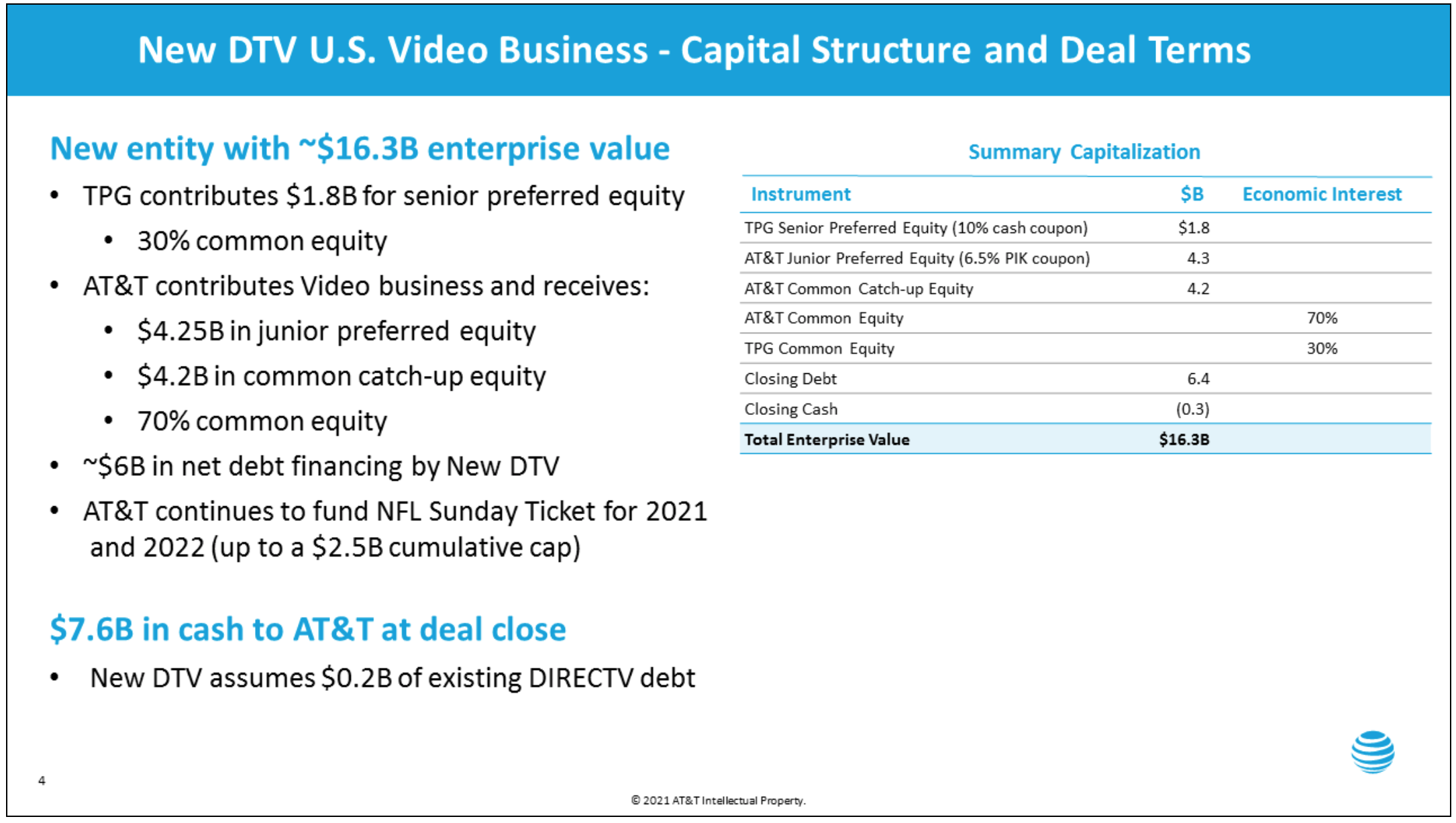 AT&T announced that it has sold a minority stake in DIRECTV to the private equity arm of TPG. The two parties will establish a new company named DIRECTV ("New DIRECTV") that will own and operate AT&T's U.S. video business unit consisting of the DIRECTV, AT&T TV and U-verse video services. Following the close of the transaction, AT&T will own 70% of the common equity and TPG will own 30%. AT&T will net $7.8 billion from the deal, valuing DIRECTV at at $16.25 billion. AT&T acquired DIRECTV for $48.5 billion in 2015, or $67 billion when you include debt.
TPG will contribute $1.8 billion in cash to New DIRECTV and has secured $6.2 billion in committed financing from its bank group, $5.8 billion of which is expected to be paid to AT&T in cash plus the assumption from AT&T of $200 million of existing DIRECTV debt. The New DIRECTV will be jointly governed by a board that has two representatives from each of AT&T and TPG, as well as a fifth seat for the CEO, which at closing will be Bill Morrow, CEO of AT&T's U.S. video business.
AT&T and New DIRECTV will have commercial agreements in place that will give New DIRECTV video subscribers continued access to HBO Max and to offer bundled pay-TV service for AT&T's wireless and internet customers. Once the transaction is completed, existing AT&T video subscribers will become New DIRECTV customers and will be able to keep their video service and any bundled wireless or broadband services, as well as HBO Max, plus any associated discounts. The NFL SUNDAY TICKET content deal on DIRECTV, will be a part of the New DIRECTV company.