Quibi Has Flawless Launch: Negative Press Due To Lack of TV App Unjustified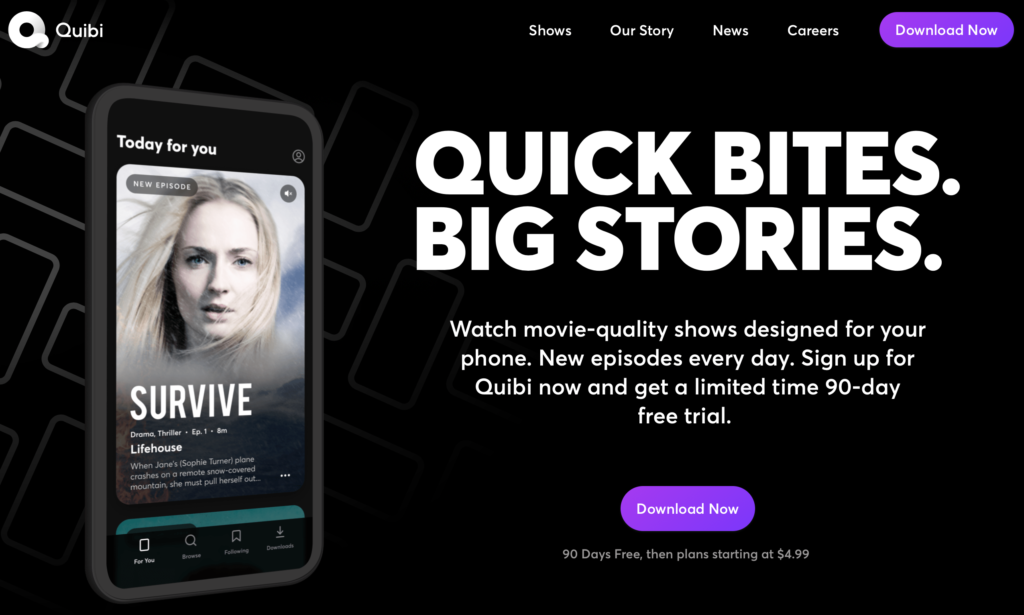 Quibi has officially launched in the market and so far, based on what I have seen, users aren't reporting any problems with creating accounts or video playback. I was notified at 11:15pm ET on Sunday night that the app was ready to download and the process of creating an account was simple and quick. I was in the app and watching videos in under a minute. The service is getting some negative reviews in the media today for things like a "lack of a TV experience", and "no iPad app", which completely misses the point of the service.
Giving Quibi a negative review because the content isn't for viewing on a big screen is like complaining a motorcycle is a bad means of transportation because it can't carry four people like a car. Quibi was made for a specific type of viewing, for a very specific device. Quibi does exactly what it said it would do. It isn't trying to be a TV app today. Down the line it might, but today it's filling a specific role in the market for a mobile only experience. The navigation is easy, the video looks great for me on wifi and 4G and it has options to download content, change the quality settings and minimize data usage. All the things you would want and expect to see in a mobile video experience. While I have no confirmation from the company, I do think that Quibi could add a tablet app sooner rather than later.
Quibi will be an interesting one to watch over the next 12-months. We've never seen a focused video service like this in the market and while some suggest it can't compete with Netflix, it's not trying to. Netflix is long-form video, no ads, available on every screen possible. Quibi is content that is 10 minutes or less in length, ad supported, available only on mobile. So while the services aren't competitive from a content standpoint, all video streaming services are competing for our eyeballs. We have a limited number of hours in the day to consume entertainment, news and music, both short and long-form, and it's too early to know how successful Quibi can be in capturing our on-the-go video viewing. I expect we'll hear some metrics from Quibi before too long on the number of downloads of their app, or accounts created, but with a 90-day free trail, we really won't have any metrics that matter until Q3, when we know what percentage of users turn into paying customers.
Updated April 7: Now that I've spent the past 24 hours using Quibi, here's my list so far, of the UI/UX features that Quibi is missing. Some of them are pretty major.