Announcing The Launch of "OTTVIDEO.NEWS": The Best OTT News & Industry Data, Curated Daily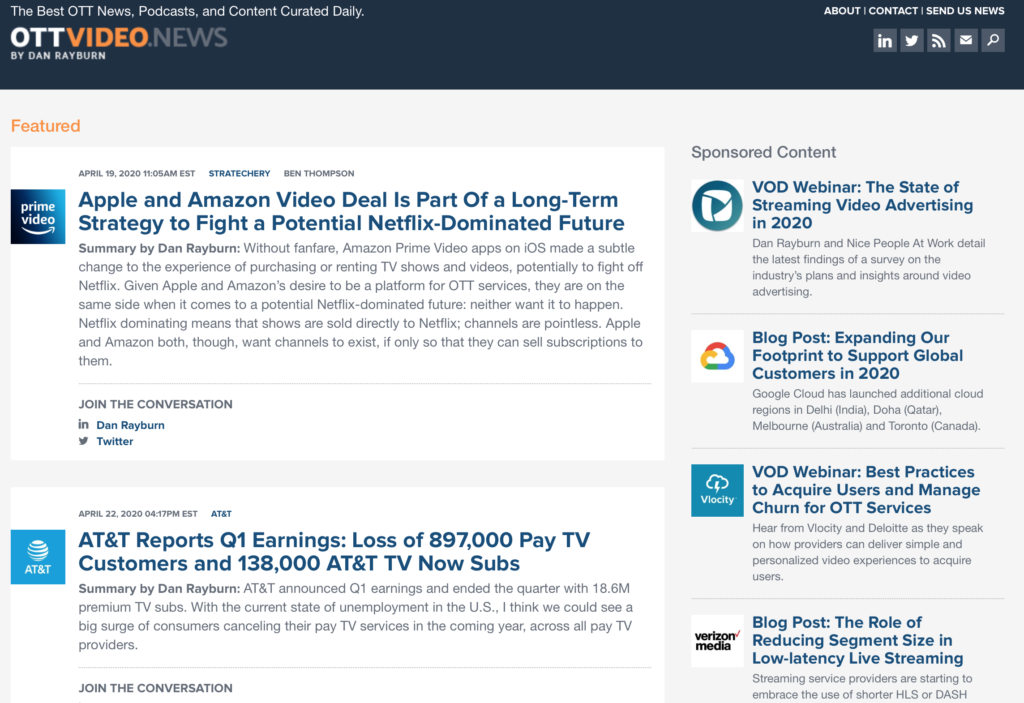 I am excited to announce the launch of www.ottvideo.news, the best OTT news and industry data, curated daily, by a team of streaming execs. For the industry, by the industry. [Follow #ottvideonews on Twitter and LinkedIn]
While many want to pull back in these current times, my approach is to do the opposite and double-down. Now, more than ever, with the streaming and OTT industry in the spotlight, it's time we have a way to make it easy for everyone to stay on top of the latest news, deals, data, earnings and events, without having to spend hours each searching for the best content, or having to visit dozens of websites, blogs and newsletters. One site that sifts through all the garbage to bring you the best news, analysis, and data that matters most.
The new site is fast, clean, easy to scroll, with no big images, no ads, and no pop up windows. Get in, see the news, get back to your job. Unlike many news sites that are designed around CPMs and page views, this site is about content first. Articles will link to discussions on LinkedIn and Twitter and you can sign up for a news digest weekly. [Daily option coming soon]
I am excited to announce that at launch, I have 10 curators who have joined me to help highlight the best news daily. They are Yves Boudreau, Tal Chalozin, Lee Chen, Mark Donnigan, Scott Favelle, Glenn Goldstein, Shrishti Gupta, Matt McClure, Andrew Rosen and Jon Watts. Their combined expertise covers video business, monetization and engineering topics across the U.S., Europe, India, APAC and Australia regions.
If you have any questions, comments, see something not working right, or want to give feedback of any kind, I'd love to hear from you at any time. 917-523-4562 | dan@danrayburn.com
My mission is simple. To highlight content that informs, educates and empowers professionals in the streaming and OTT video industry – to help the entire industry grow. I look forward to hearing your ideas, how you want to contribute, what resources you would like to see in the market, and how best I can help you and the industry. Stream on!