New Chart Lets You Compare Today's Streaming Boxes and OTT Platforms
At the Streaming Media East show last week we released our 2015 Streaming Media Device Guide which lets you compare today's hardware devices and OTT platforms. You can download a copy of the chart by clicking on the image below and you can always find the latest version of the chart at www.StreamingMediaDevices.com.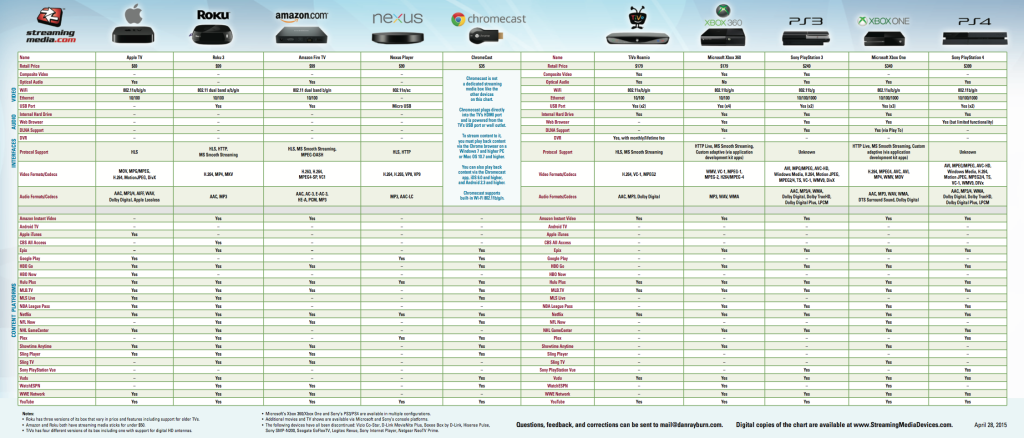 I will be updating the chart throughout the year, so look at the bottom right corner of the chart to find the date of the latest update. The most recent chart is dated May 20 May 21 in the lower right hand corner of the chart. If you have questions on which box you should choose, send me an email and I'll help you out. Chart corrections can be left in the comments section below. Thanks to many of the device manufactures for reviewing the data for accuracy. 2014 chart can be found here.
Updates
– 5/21: Chart updated to show Sling TV now available on the Nexus Player
– 5/20: Chart corrected to show Google Play available on the Roku
– 5/18: Chart corrected to show Roku having DLNA support
– 8/21: HBO Now is available on Amazon Fire TV and Google Chromecast
– 8/21: CBS All Access is available on Google Chromecast
– 8/21: Showtime Now is available on Apple TV and Roku