New Chart Lets You Compare Today's Streaming Media Boxes & OTT Platforms, All In One Place
[Oct. 27th Note: New devices are out including the Google Nexus Player and Amazon Fire TV Stick and some services like Redbox have disappeared. So I'm working on updating the chart. Needs an overhaul once again.]
Including game consoles, there are more than 20 streaming media devices in the market today. Trying to compare their technical specs and which content platforms they do or do not support can be quite challenging. To make it easier, I've updated last year's chart to include recently released boxes from Amazon (Fire TV), Microsoft (Xbox One), Sony (PS4) and Google (Chromecast). I've also added content platforms from WWE, Showtime, Redbox and MLS.
You can download a copy of the chart by clicking on the image below and you can always find the latest version of the chart at www.StreamingMediaDevices.com. I will be updating the chart throughout the year, so look at the bottom right corner of the chart to find the date of the latest update. The most recent chart is dated April 22. If you want a really high-res copy of the chart, you can download it here. To get hands-on with all of these boxes and content platforms in-person, come to the Streaming Media East show, May 13-14 in NYC. More details here.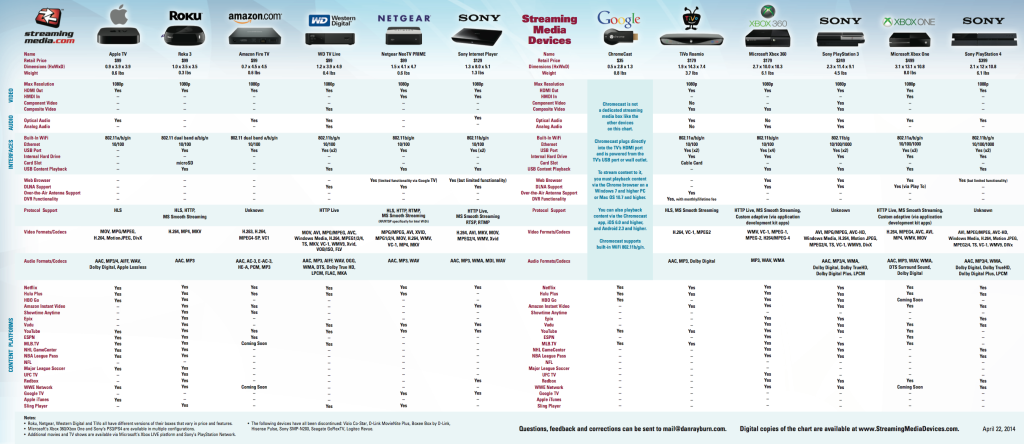 Updated May 2: Chromecast now supports Redbox Instant.
Updated May 2: WWE Network is now supported on the Xbox One.
Updated June 3: Chromecast now supports WatchESPN, MLS and Crunchyroll.
Updated August 4: Amazon's Fire TV now supports MLB.TV and WWE.
The Vizio Co-Star, D-Link MovieNite Plus, Hisense Pulse, Boxee Box and ASUS Cube are now end of life or no longer being supported/produced, so they have been removed from the chart. While the chart includes gaming systems, I have not included the Wii or Wii U due to space constraints.
If you have questions on which box you should choose, send me an email and I'll help you out. Chart corrections can also be left in the comments section below. Thanks to Roku, Western Digital, Netgear, Sony, Microsoft and TiVo for reviewing the data in the chart.