Set-Top Box Sales Slowing: CAGR of Only 4% Over Next Five Years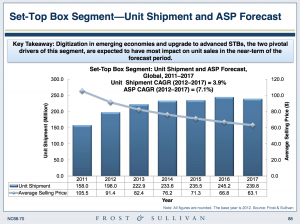 The digital divide between advanced and emerging economies is expected to define the nature of growth in the STB market over the next few years, which is detailed in our latest Frost & Sullivan report on the size of the Consumer Video Devices Market. Advanced STB users moving up the scale to integrated home media gateways and new STB users adopting basic, low-cost STB devices that offer fundamental STB features and functionality will be key drivers. Over the forecast period, we expect STB unit shipments to grow at a compound annual growth rate of 4%, with more than 200M set-top boxes sold globally by the end of this year.

Digitization in emerging economies and upgrade to advanced STBs, the two pivotal drivers of this segment, are expected to have most impact on unit sales in the near-term of the forecast period. The migration to hybrid STBs in advanced economies is also expected to be an important trend in this market. Hybrid STBs enable operators to address the competition from alternative technology and meet consumer's interactive, TV everywhere demand. Hybrid STBs, that is the ability to receive content over hybrid cable/IP or satellite/IP connections are gradually becoming mainstream features.
Set top box sales are driven by three major factors: growth in digital cable and digital terrestrial transmission subscribers; churn of Pay TV households from one service to another; and upgrades or replacements of existing set-top boxes. Digitization underway in the highly populous countries of India and China is drove a good chunk of sales in 2012 and will remain a key driver in 2013. These set-top boxes are predominantly lower-end boxes, supporting SD resolution and often based on MPEG-2 for reasons of economy.
Customer churn remains a significant source of upgrades as well. IPTV in particular is seeing a surge in subscriber numbers as consumers are attracted to the rich interactive applications that two-way IPTV networks can support far more easily than cable networks using one-way DVB transmission. The replacement period for STBs is expected to remain steady at its present level of 4 to 5 years. A more detailed demand analysis for set-top boxes is provided in our research study on Pay TV Middleware, which predicts that external factors such as rising costs of deploying Pay TV services, increased competition, bandwidth availability, and consumer trends will all influence the rate of growth of STB unit shipments over the forecast period.
Copies of the report are available to any customer who has a subscription to Frost's Digital Media research service and anyone interested in getting a subscription can contact me for more details.