Apple Owns 56% Of The Streaming Devices Market, Roku Second With 21%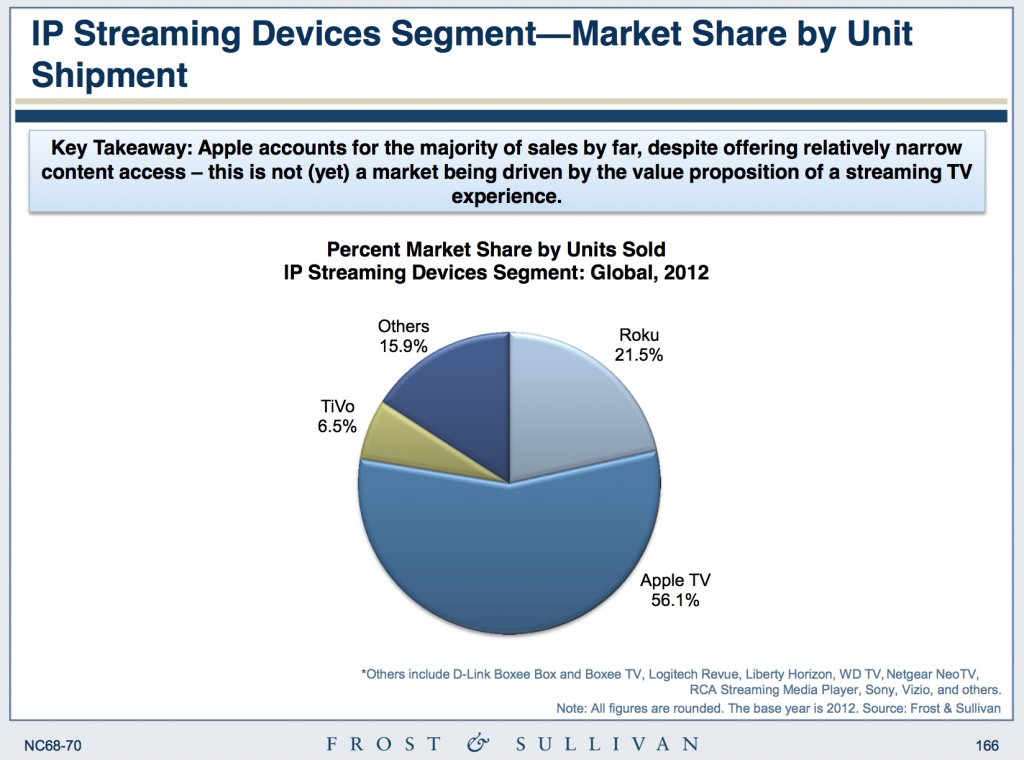 We've just released our latest Frost & Sullivan report on the size of the Consumer Video Devices Market, which details the market drivers, restraints to market growth, product and pricing trends, competitive landscape, and market forecasts and trend analysis broken out by region of the world for the next five years. Our report details sales numbers showing that Apple owned 56% of the streaming devices market in 2012, with Roku coming in second at 21% of the market.
Apple accounts for the majority of sales by far, despite offering relatively narrow content access – this is not (yet) a market being driven by the value proposition of a streaming TV experience. AppleTV's AirPlay feature was strategically crafted to simplify the process of transferring laptop and tablet displays to a TV screen, and it is AirPlaying – not OTT streaming – that is the primary reason for purchase of AppleTV devices. Roku is the second largest vendor in this space and is driving growth through a strong lineup of content as well as through a series of agreements with Pay TV vendors such as Time Warner Cable. The long-term potential for this segment does remain uncertain. It is important to note that while current growth rates are high, the total installed base of $99 streaming boxes is quite low.
These devices today are predominantly sold in retail stores to users who seek a convenient, compact device to find and display OTT video (subscription or free) to their television screen. Up until 2012 the market has struggled to find mainstream momentum; even today, we believe only two vendors (Apple and Roku) have crossed the 1M unit mark in annual shipments. Aside from Apple and Roku, TiVo offers the next strongest installed base of users, making them a strategic option for Pay TV service providers looking to establish an IP streaming device partnership.
Google is conspicuous by its absence in this segment. Devices based on the Google TV platform have seen very little commercial success so far, with our estimates of less than 1M total installed devices, of which the discontinued Logitech Revue accounts for the lion's share. Google remains committed to competing in this space, however, and a bunch of new devices with Google TV have launched in recent months, joining Vizio's C0-Star device, including the Hisense Pulse, Asus Qube and NeoTV Prime.
The report breaks out market share and sales numbers for tablets, phones, smart TVs, set-top-boxes, game consoles and IP streaming devices, based on region of the world, with projections for the next few years. Copies of the report are available to any customer who has a subscription to Frost's Digital Media research service and anyone interested in getting a subscription can contact me for more details. Game console data can be found here "More Than 35M Video Game Consoles Expected To Be Sold in 2013, 60% Used For OTT Video".
Also, while many research analysts at other firms won't talk to someone unless they are a customer of that firm, I have and always will talk to any company who is interested in getting more details on any aspect of our reports, so email me or call anytime. (917-523-4562)