Samsung Owned 30% Of The Global Smartphone Market In 2012, Apple At 18%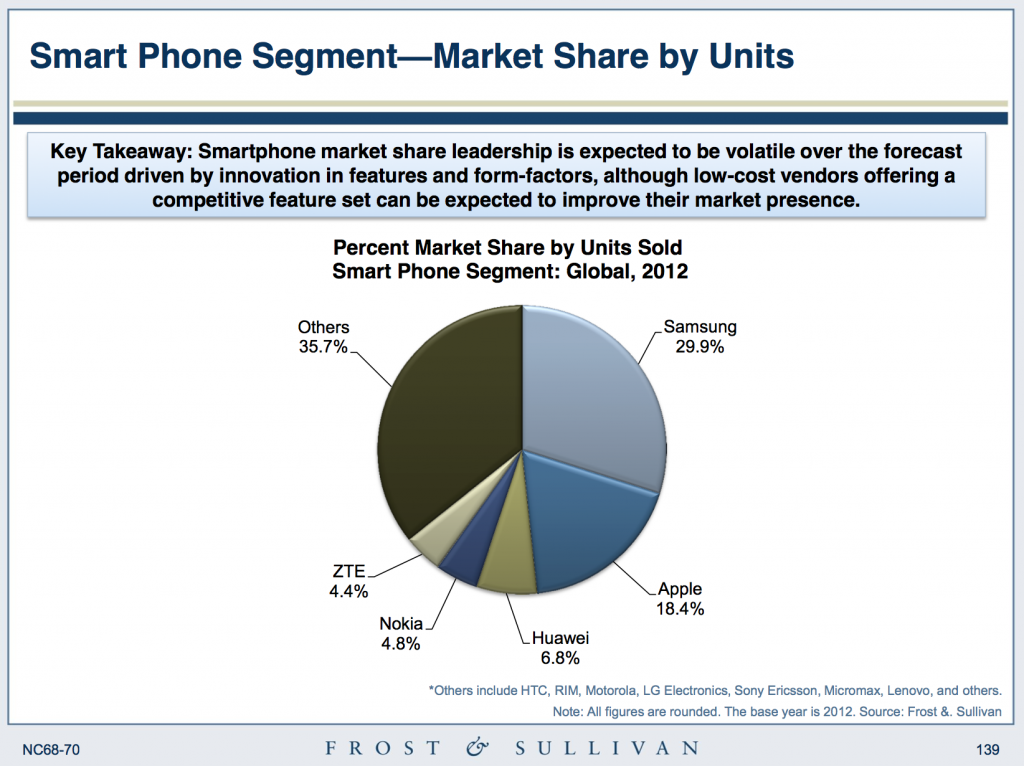 Of all the devices covered in our latest Frost & Sullivan report on the size of the Consumer Video Devices Market, smart phones arguably represent both the most mature market in terms of penetration and the most energetic market in terms of ongoing disruption and expected growth rates. Migration from basic phones to feature phones and feature phones to smartphones and continued consumption of content on mobile handsets are expected to be the primary drivers of this segment over the next few years. Samsung still dominated in 2012, owning 30% of the global smartphone market, with Apple commanding 18%, based on sales figures.
The total mobile handset market is expected to be mostly static as the high level of saturation of the market limits new sales predominantly to unit replacements and upgrades. That said, sales of both smart and feature phones are expected to grow as they continue to account for a growing percentage of mobile handset sales. In terms of units sold, smart phones are expected to surpass feature phones in 2014, although feature phone sales will still grow over the entire forecast period.
Greater competition among device manufacturers and service providers has led device manufacturers to reduce handset prices with the ASP for smart phones forecast to decline by a CAGR of 8.5% over our forecast period. Continued carrier subsidies and dumping of older models at fire sale prices is expected to drive affordability and reach of smartphones. Device vendors are competing on both price and features simultaneously, especially on the high-end side as smartphone users now expect significant improvements in new models or upgrades as has been the case since the launch of Apple and Samsung smartphones.
Upgrade frequency for phones continues to be relatively high as new models incorporate substantial improvements over their predecessors while remaining competitive on prices, and possession of latest phone models continues to be a status symbol in many demographics.
In advanced economies, 3G technologies are becoming obsolete even as they are still being rolled out, and local wi-fi bubbles and LTE are being aggressively explored, along with rate grooming and traffic shaping technologies – particularly for video – to manage quality of experience for a growing number of users downloading growing volumes of video. Over our forecast period, smartphones are expected to witness greater adoption in both emerging and advanced economies driven by important factors, namely availability of a broad range of devices that address price-performance requirements of a vast section of consumers.
Copies of the report are available to any customer who has a subscription to Frost's Digital Media research service and anyone interested in getting a subscription can contact me for more details.