Global Smart TV Sales To Grow At A Low CAGR of 23%, Over Next Five Years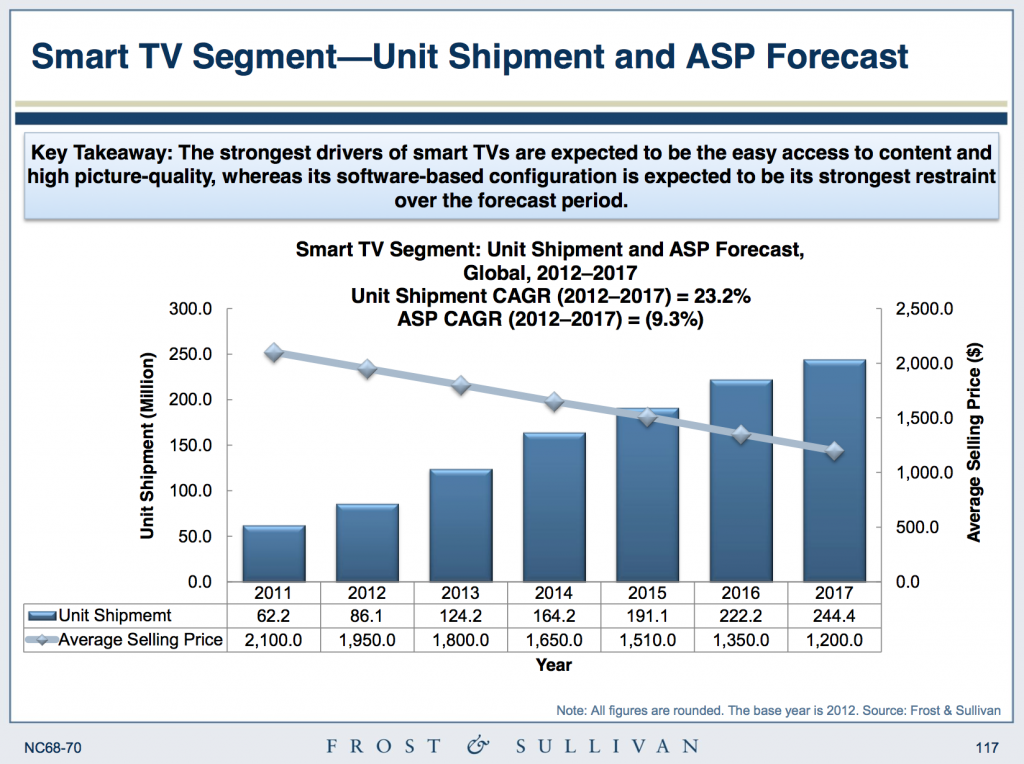 The strongest drivers of smart TVs are expected to be the easy access to content and high picture-quality, whereas its software-based configuration is expected to be its strongest restraint when it comes to smart TV sales in the coming years. That's the key takeaway from our latest Frost & Sullivan report on the size of the Consumer Video Devices Market, which details the market drivers, restraints to market growth, product and pricing trends, competitive landscape, and market forecasts and trend analysis broken out by region of the world for the next five years.
This is an early mover market – even growth and emerging markets like India and China are seeing soaring sales of smart TVs. China is, in fact, one of the largest markets by unit sales worldwide for smart TVs. In India in 2012, we estimate that nearly 2 million smart TVs were sold in 2012 which represents 20.0 percent of all new TV sales.
Smart TV pricing is affected by two factors – typically growing price-points at the higher end, and falling price points at the lower end, with the relative mix of high-end and low-end products ultimately determining average market price. Over the forecast period, it is, however, expected that the average selling price will decline to drive growth in unit sales of both high-end and low-end smart TVs. The price-performance aspect of smart TVs is the strongest driver of the market.
In North America, smart TVs are expected to have a slower penetration over the forecast period primarily due to the way content is consumed in that region with on-demand services being the most popular. Also, the region has a significant penetration of Internet connected content streaming devices such as video gaming consoles and Blu-ray players. Relatively less expensive smart TVs by regional vendors such as Skyworth are going to be pivotal to product adoption in populous emerging economies such as China and India in APAC.
Copies of the report are available to any customer who has a subscription to Frost's Digital Media research service and anyone interested in getting a subscription can contact me for more details.