DoubleClick's Ari Paparo Kicks Off Streaming Media Europe Showing The Growth In Online Video Advertising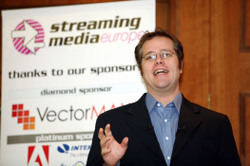 Thanks to everyone who made last weeks Streaming Media Europe show a success. Attendee traffic grew from last year and we also had more speakers, exhibitors and sponsors participating. Due to the shows growth over the past two years, we'll be moving the show to a larger location for next year. I had some great conversations with European providers and content customers and brought back a lot of new insight into the European market.
Bloggers are just starting to get up coverage of the show and you can already read some highlights of the show here, including an overview of Ari's keynote. In Ari's presentation, he noted that several key challenges remain to be overcome before in-stream video ads become the $1.5 billion market that some forecasters are predicting. Most notably, he pointed to the lack of infrastructure within content publishers and ad agencies to support the degree of integration between video and banner ads to avoid delivering contradicting messages—say, delivering a Coke banner alongside a Pepsi video—as well as the inability to change ad messages on the fly the way they can with banners.
In the next week or so I will be posting MP3 recordings of all the conference sessions along with video archives from many sessions as well. Speakers presentations are just starting to be placed online and we'll have all the archives wrapped up shortly and will announce attendee numbers.