Amazon Says TNF Averaged 16.6M Viewers Across "All Media Platforms", but Doesn't Provide Any Transparency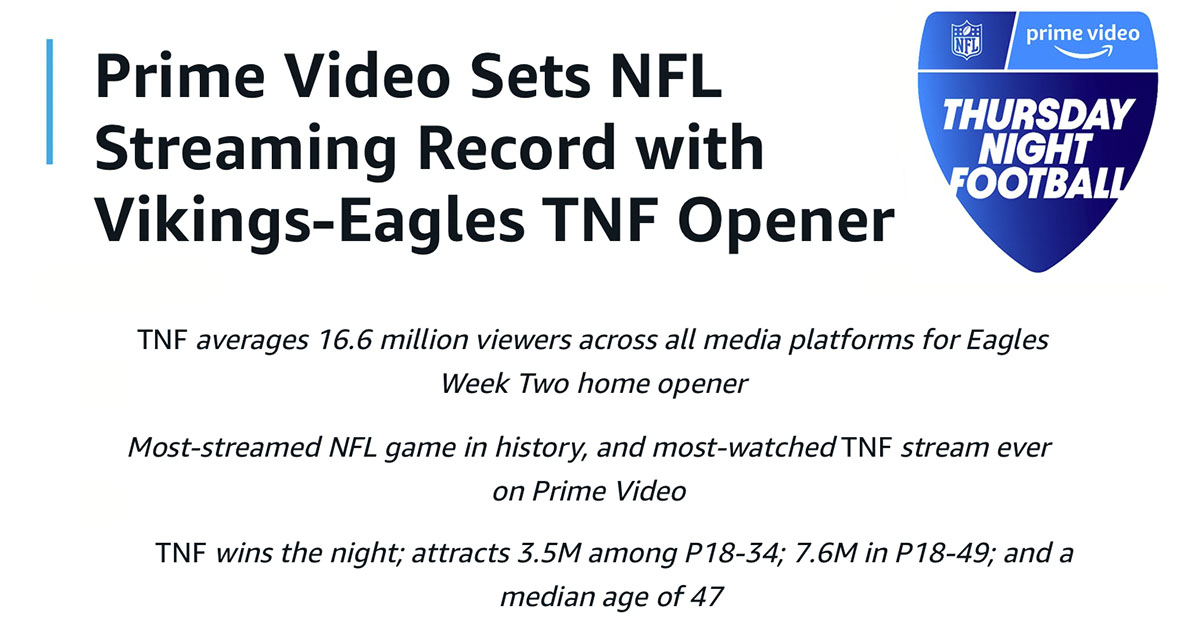 Amazon says that according to Nielsen's custom Integrated Live Streaming Report, Prime Video averaged 16.6 million viewers (AMA) for the Thursday Night Football kickoff game of the Vikings and Eagles across Prime Video, local broadcast outlets, Twitch, and NFL digital properties. That's not a dedicated streaming-only number. Also, Amazon does not define what a "viewer" is so if the game is auto-playing on the home page and you visit the home page but don't click on the video, are you a viewer? We don't know. There is zero transparency in the numbers.
These numbers are NOT comparable to previous games or streaming of other live sporting events since Nielsen has revised their formula and is using Amazon's first-party data in determining the official viewership of TNF games. Last year, Amazon's internal data showed viewership 18% higher than the Nielsen numbers for the 15 regular-season games broadcast on Prime Video.
It's pretty amazing to see Nielsen sacrifice its most valuable selling proposition, impartiality, just for one client and one sports league. Any partner of Nielsen's and other large clients and sports leagues looks like they don't matter to Nielsen when they change their rules for one customer.
It has been reported that Nielsen has made a similar effort to utilize data from streaming platforms from other networks who have reported to the media that Nielsen has given them no actual information on how it would work and kept them in the dark. If there is one thing Nielsen isn't known for it's transparency. Nielsen calls out that the current way they do measurement, by integrating first-party viewing signal, is "presently not accredited" and is "undergoing review by the Media Rating Council." In other words, the data is not to be trusted.
Amazon is calling this the "most-streamed NFL game in history", with a * calling out that is, "based on device AMA, inclusive of Prime Video, Twitch, and NFL+." I don't even know what that means. I would expect it to be the largest streamed NFL game but Amazon doesn't say what the streaming-only viewership numbers were. And, this is very important, they don't say how many had a good quality experience. When you compare your viewership numbers to cable TV, where the experience is the same for everyone, versus streaming where a larger portion of your users could have had a poor experience, that is not apples-to-apples.
Also, I'll put this out there. In more than 3 years of inquiries to Nielsen, they have never once replied to any of my questions. I hear this from other media outlets all the time as well. There is a reason why they don't like talking to the media, they don't want to be asked hard questions.