YouTube TV, Apple TV and Netflix Suffer Live Streaming Outages due to the Complexity of the Streaming Video Stack
In the past 30-days, YouTube TV, Apple TV and Netflix all had technical issues with a live event/stream on their platform. On May 17th, technical issues marred the final minutes of YouTube TV's stream of the Heat-Celtics NBA playoff game on TNT with users getting a looping ad for The Little Mermaid. Clearly YouTube TV had some issues on the DAI side with insertion and playback of the ad. YouTube TV was quick to acknowledge the issue on Twitter saying, "we're aware of it & our team is working on a fix." [Updated May 22] Some YouTube TV users are reporting online that they have received two weeks of the service for free, after contacting YouTube TV about the outage.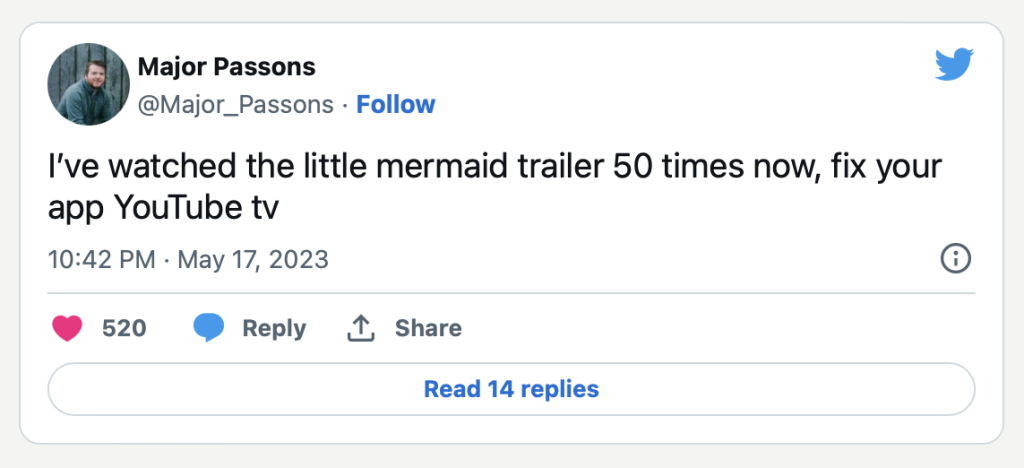 On April 15th, MLS Season Pass on Apple TV+ went down, due to a problem across all of Apple's cloud services, with some users reporting an outage of two hours. Neither MLS or Apple communicated the technical issue on their websites nor social media channels, which is 100% unacceptable. Pretending it doesn't exist is a TERRIBLE strategy, especially when it's a service consumers pay for. [UPDATED May 19] Apple tells me that it was up to the clubs to determine how to communicate the outage with fans, with some clubs contacting fans to say, "We apologize for the technical difficulties with your MLS Season Pass subscription this past Saturday. The issue was resolved as quickly as possible that night. We appreciate your patience and support of [xx club] and MLS." That's good, but it happened after the fact and the outage wasn't acknowledged at all during the outage.
One day later, on April 16th, Netflix's live stream of the 'Love Is Blind' reunion never got underway as Netflix had a technical issue. The company acknowledged the problem on Twitter, apologized, and decided to make the video available on-demand only. In Netflix's Q1 2023 earnings call, the company addressed the outage saying:
"We're really sorry to have disappointed so many people. We didn't meet the standard that we expect of ourselves to serve our members. And just to be clear, from a technical perspective, you know, we've got the infrastructure. We had just a bug that we introduced. Actually, when we implemented some changes to try and improve live streaming performance after the last live broadcast Chris Rock in March, we just didn't see this bug in internal testing because it only became apparent once we put sort of multiple systems interacting with each other under the load of millions of people trying to watch Love is Blind. So, we hate it when these things happen, but we'll learn from it and we'll get better and we do have the fundamental infrastructure that we need."
All of these outages and technical issues are a reality of the industry when the streaming video stack is as complex as it is. These outages and technical issues will never go away completely – ever. Anyone who thinks otherwise isn't living in reality. Yes, all streaming platforms are doing everything they can to mitigate outages and technical issues as much as possible, but these aren't cable TV platforms which have 100% control over the entire video stack end-to-end, including the hardware.
The media doesn't seem to understand the core differences in the technology and infrastructure of cable TV versus delivering video over-the-top. Some of their suggestions on how to "fix" these issues show a complete lack of understanding of the basics of how streaming media technology works. All that aside, outages across OTT platforms for both live and on-demand content will never go away. Overall, OTT platforms continue to improve upon the user experience and will become more reliable, but with more users, (scale) and new business models (advertising), it brings more complexity and technical challenges- and that will only increase.