As Viewership To Disney's Streaming Services Grow, Their D2C Losses Widen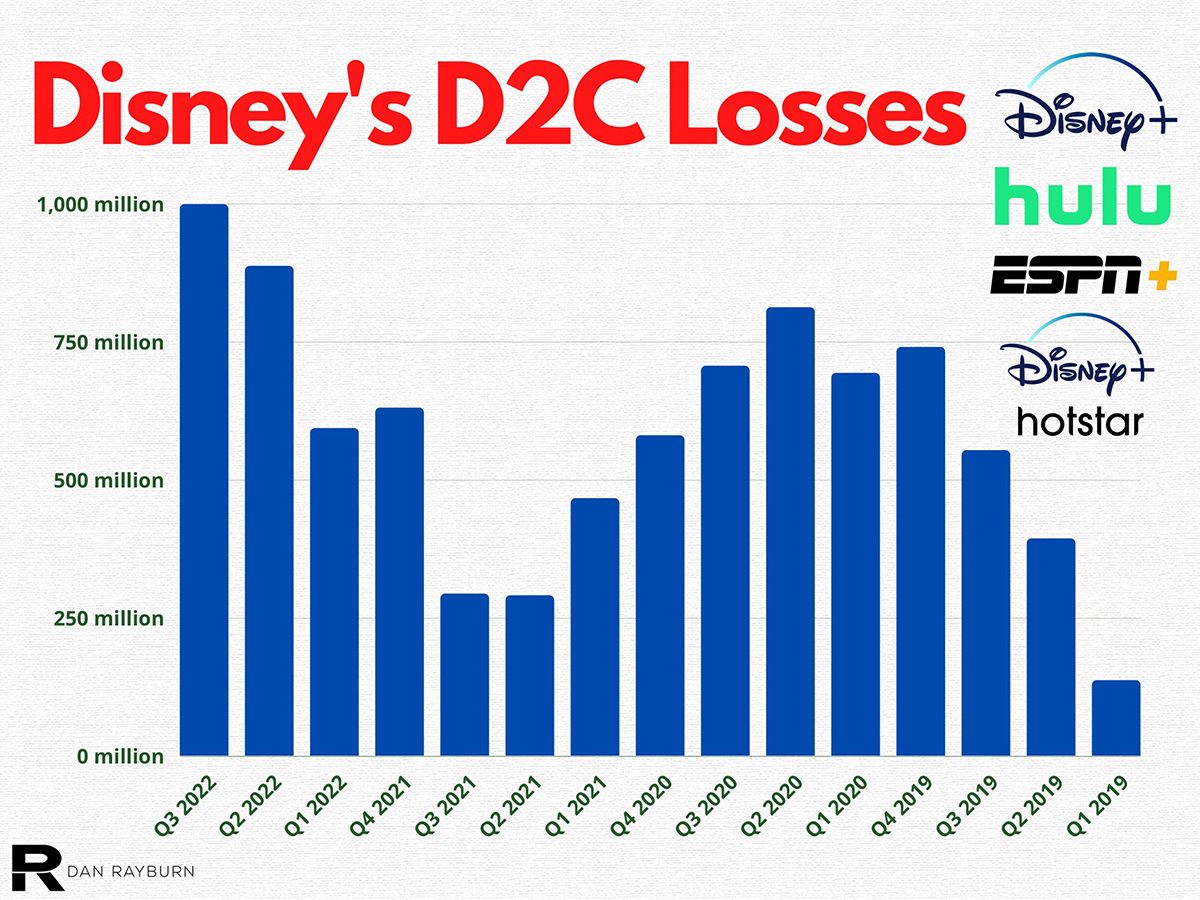 Nielsen's latest data says Disney's D2C streaming services gained 5.4% of TV viewing "share" last month, yet Disney's D2C business lost $1.1B in their fiscal Q3 quarter, their biggest loss ever. The metric of "share", or viewing time, by itself, is not what the industry should be looking at to determine success. That one data point, by itself, does not tell a complete story and does not determine a "winner" as the media continues to say.
Also, suggesting there will only by a "few" winners or "3-4 winners" in the streaming wars, like I keep hearing execs say on CNBC each day is not accurate. Define what a "winner" means? Apple, Netflix, Disney, Warner Bros. Discovery, Paramount, Comcast, Amazon, Roku, will all be highly competitive for years to come and most have different business models. None of them are going to exit the market and that's 8 companies right there. Suggesting there will only be a "few" winners simply isn't accurate.
Disney's D2C losses broken out by quarter:
Disney's Q3 2022: D2C lost $1.1 billion
Disney's Q2 2022: D2C lost $887 million
Disney's Q1 2022: D2C lost $593 million
Disney's Q4 2021: D2C lost $630 million
Disney's Q3 2021: D2C lost $293 million
Disney's Q2 2021: D2C lost $290 million
Disney's Q1 2021: D2C lost $466 million
Disney's Q4 2020: D2C lost $580 million
Disney's Q3 2020: D2C lost $706 million
Disney's Q2 2020: D2C lost $812 million
Disney's Q1 2020: D2C lost $693 million
Disney's Q4 2019: D2C lost $740 million
Disney's Q3 2019: D2C lost $553 million
Disney's Q2 2019: D2C lost $393 million
Disney's Q1 2019: D2C lost $136 million
*Note: For some of these quarters, Disney included D2C revenue and losses with "International" before they restructured their business.