Live Updates: Testing Super Bowl Stream Across 30+ Apps/Platforms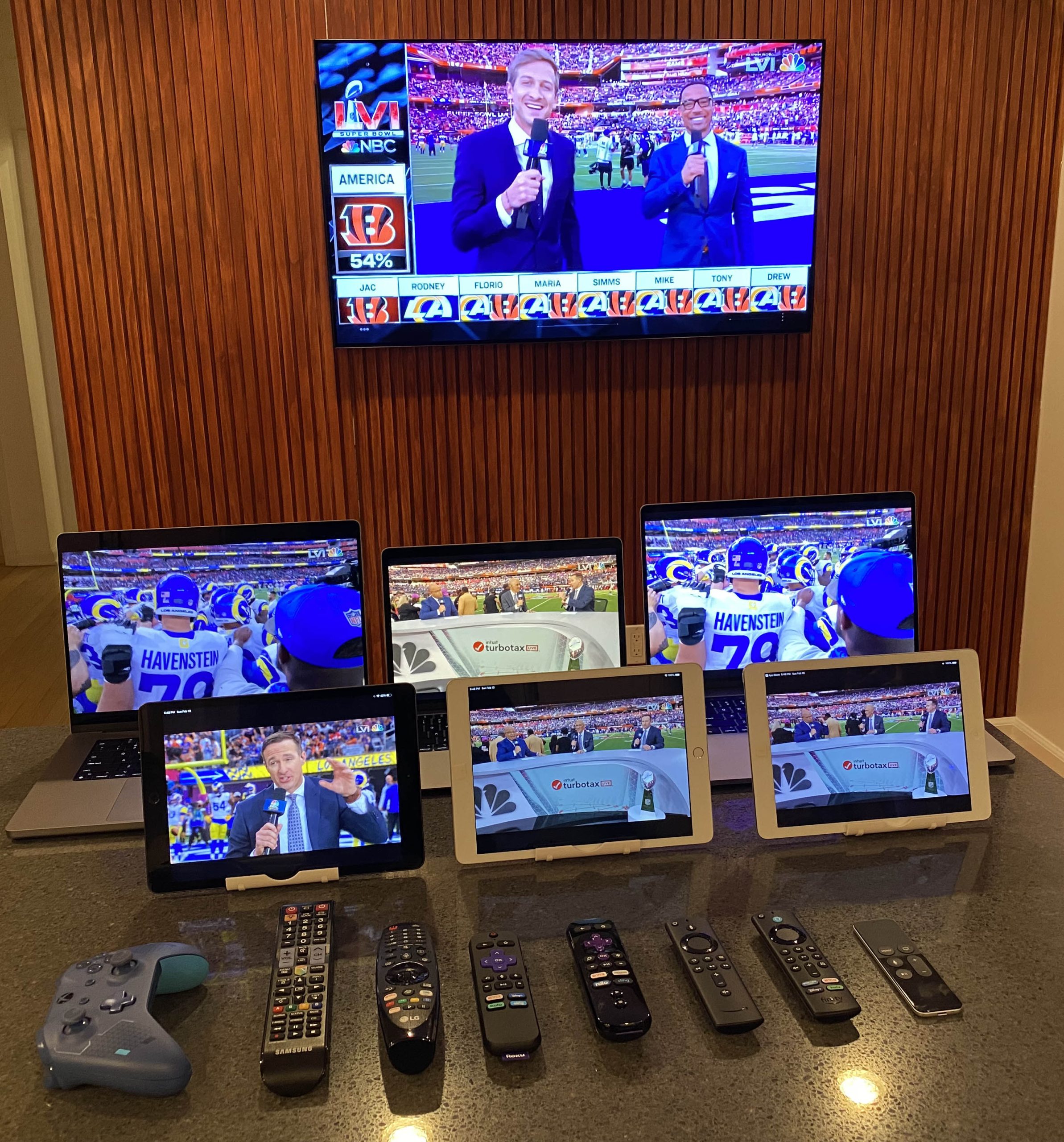 I've kicked off my testing of the Super Bowl stream across a combination of 30+ devices and platforms. Follow this post for the latest updates below during the game. All streaming boxes and TVs are connected via ethernet with all MacBook's, iPads and iPhones on Wifi. I'm utilizing a 100Mbps connection up/down from Verizon FiOS and at the bottom of the post is a list of all the devices and streaming platforms being tested. If you experience any Super Bowl streaming issues, you can send them to me via email (dan@danrayburn.com) or on Twitter /danrayburn.
February 15: NBC Sports says the "Average Minute Audience" for the Super Bowl live stream was 6 million across Peacock, NBC Sports Digital platforms, NFL Digital platforms, Rams and Bengals mobile properties, and Yahoo Sports mobile properties. NBC Sports says the 6 million number is "according to the traditional counting of streaming, which is the comparable metric to last year's 5.7 million". The delivery rises to 11.2 million AMA viewers, which takes into account "co-viewing from connected devices".
10:01am – And that's a wrap. I'll post streaming numbers from NBC Sports as soon as they put them out.
8:01pm – Not seeing any issues across any platforms or devices right now. Twitter pages/support pages for YouTubeTV, Peacock TV and Sling TV are all quiet.
7:20pm – All streaming apps working well across my iPad and iPhone models, so issues seen on my end, other than the NFL app issue below, which is now working.
7:02pm – Mobile streams are looking good with the Yahoo Sports App but the NFL Mobile App isn't loading any video for me.
6:46pm – The 4K stream on YouTube TV is looking good across Apple TV, Roku and Amazon Fire TV devices.
6:38pm – Hulu is having issues with WWE right now, don't know if any impact due to the Super Bowl. Hulu says on Twitter, "Sorry for the continued trouble! Our team is aware of and is investigating this behavior. Although we don't have an ETA to share at this time, we assure you we're hard at work to get to the bottom of this. Thanks for your patience in the meantime!"
6:35pm – Kickoff is underway with the stream looking good for me using Peacock TV, Sling TV, YouTube TV and NBC Sports apps along with websites from NFL.com, NBCSports.com. Startup times vary, but most are under 2 seconds.
6:28pm – Some users on Hulu are reporting issues with audio on their local NBC channel. Hulu says they have "received similar reports regarding KSHB and our team is currently investigating this issue."
Hardware Tested:
– Apple TV (Gen 4/5)
– Fire TV Stick (4K/4k Max/Lite/Cube 1st Gen)
– Xbox One
– Samsung (Q60A/QN90)
– LG (OLED C1/NanoCell 90)
– Vizio (M6)
– Roku (Ultra 4670/Express 4k 3940/Stick+ 3821/Streambar Pro 9101)
– MacBook (Pro 2021/2019, Air 2013)
– Apple iPad/Air/Mini (2020/2018/2015)
– Apple iPhone (various models via 4G/Wifi)
Streaming Platforms Tested:
– Peacock TV
– Hulu + Live TV
– YouTube TV
– Sling TV
– fuboTV
– NBC Sports website
– NBC Sports App
– NFL website
– NFL Mobile App
– Yahoo! Sports App