UPDATED: Verizon Ditches Cable Bundles and Contracts, Offers New "Mix & Match" Options With No Surcharges and Sports Network Fees for NEW Customers Only
[Updated Jan 11th: While not mentioned by Verizon, if you are a current Verizon customer you can't make any changes to your account via phone. You have to use the Verizon website, which is HORRIBLE and tries to add new set-top-boxes and even assign me a new phone number, when I already one. You also can't continue to use cable cards, which isn't mentioned anywhere. The press release also says there are no fees on top of the costs, other than tax, but they are fees still for each cable box and for a router.]
Thanks to the impact of all the OTT services in the market and the number of options consumers have for getting their video fix, Verizon announced they are doing away with FiOS bundles and contracts, and allowing customers to pick and choose options for TV, internet and phone.
As a current customer of Verizon's triple-play bundle for FiOS, I pay $109 a month, before taxes and fees. Under the new plan, I would pay $110 a month before taxes and fees. So initially the pricing is the same with no savings. But Verizon has also announced that all of the new "Mix & Match" options have "no added surcharges, no broadcast or regional sports network fees." Verizon will charge only state and local tax on top of the new options. Removal of all the surcharges and sports network fees would save me $31.38 per month. And if you also happen to be Verizon Wireless customer, there is also an option to save $10 or $20 per month, depending on your plan, by joining Verizon's Mobile+Home Rewards program.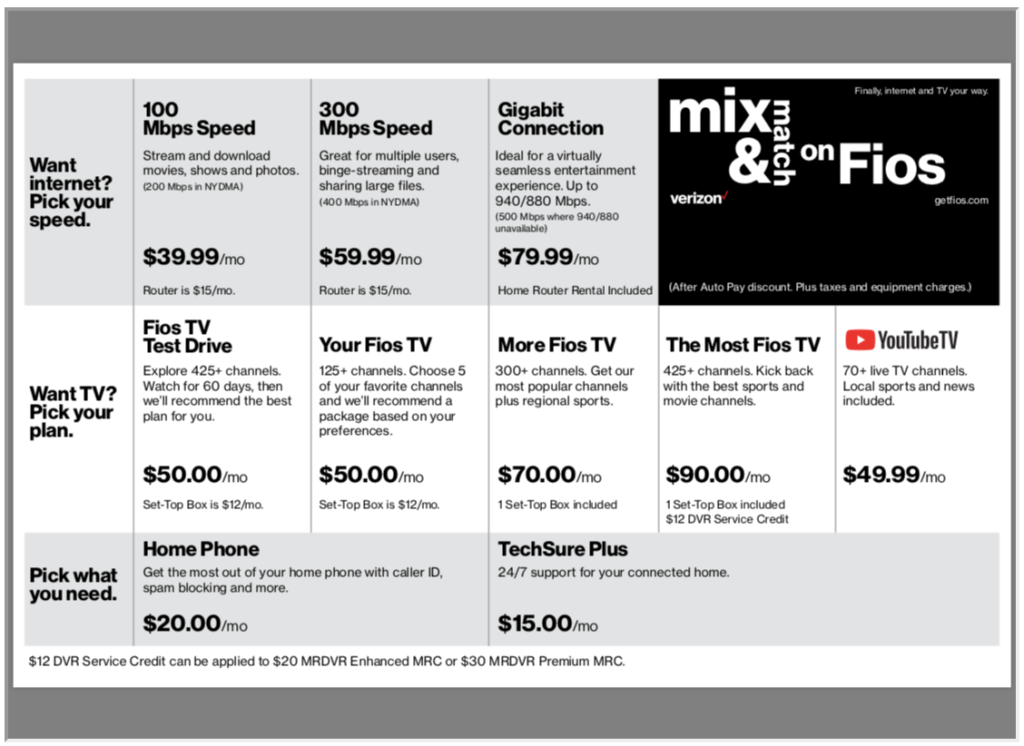 Under the new "Mix & Match" options, customers can pick from 100 Mbps, 300 Mbps or Gigabit internet, costing from $39.99 per month up to $79.99 per month. TV options include $50 per month for 125+ channels, $70 per month for 300+ channels or $70 per month for 425+ channels. You can also add a landline for $20 a month.
Verizon is also offering a YouTube TV option for $50 a month. So if you wanted live TV via streaming, plus 100Mbps Internet connection, your cost would be $90 a month, before taxes. Note though that YouTube TV has a limit of 3 simultaneous streams from one account, so if a family of 3 or more all needs to watch content at the same time, you'd run into a limitation.
Verizon's change towards triple-play bundling is just another example of how OTT continues to disrupt the pay TV market and provide more options for consumers. While the flexibility and no contract tie in is a good thing, for those not taking pay TV to begin with, Verizon's news doesn't lower their costs. And as most live streaming services continue to raise pricing each year, don't expect OTT services to go down in price at any point. Content is expensive to license and produce, so we should expect to see additional price increases ahead.