Speak At The New NAB Streaming Summit: Call For Speakers Open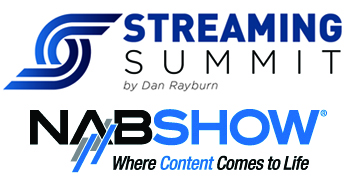 In case you haven't heard, in partnership with the NAB I'm launching a new series of focused conferences at the NAB shows in Vegas and NY, dedicated to the streaming media industry. See my blog post here with all the details.
The call for speakers is now open and am looking for those that want to present and speak on a host of business, technology and content topics, on April 11th. OTT, live workflows, content monetization and packaging, transcoding, HEVC, future technologies in a multiscreen world (VR and AI) and a host of other subjects.
I'm looking for how-to technical presentations, case studies, moderators for round-table sessions and those that can present on business topics. If you're interested in speaking, please reply to this email and send me your ideas. The show is only six weeks away, so now is the time to reach out to me with any/all suggestions. dan@danrayburn.com
And if you're headed to Vegas for the NAB show, I'll be hosting a big Beer Garden networking reception on Tuesday, April 10th at 5pm. Stay tuned for more details!
Save
Save