Announcing My New Partnership With The NAB, A New Streaming Conference, and More Industry Resources To Come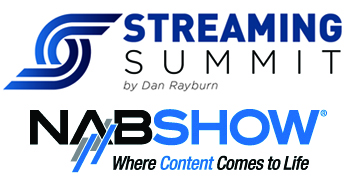 I am excited to announce that in partnership with the NAB, we are launching a new series of focused conferences at the NAB shows, dedicated to the streaming media industry. Called the "Streaming Summit by Dan Rayburn", the event will kick off at NAB Vegas on April 11th as a one-day, three-track show, and will grow into a much larger conference, covering two-days at the NAB show in NYC on October 17-18. (nabstreamingsummit.com) [I'll be giving away some free passes to the show, so tweet out your request using @danrayburn and the hashtag #streamingsummit for your chance to win.]
The NAB shows have more streaming media related vendors, content owners, broadcasters, and industry attendees all in one place, than any other event. Now, with a dedicated focus on the technology and business around streaming media, my goal is to foster a much tighter community that together, can bring more exposure and awareness to the streaming media market. The new Streaming Summit isn't just a one-off event but rather is the first piece of a brand new media company I am building, that will give vendors and end-users a better way to collaborate, share information, gain exposure, and learn from each other.
For the past 15 years I have been an extension for many in the industry, using the platforms I have to try to help inform, educate and empower others, to help our industry grow. With the reach the NAB has and their marketing power to get the message out, I now have a much larger platform and more resources to help us all. This is your chance to help shape your industry and I WANT to hear from you! I'm looking to get as much feedback as possible from individuals and on behalf of companies who have been going to the NAB shows, so I can hear what you want to see at the events and other resources you want to see in the market.
I'm also now accepting all speaking suggestions and proposals for the Vegas show and anyone interested in presenting, moderating, etc. can email me directly.
Today, an entire industry of professionals relies on streaming and online video services for their livelihood. And I believe that it's time that together, as an industry, we do everything we can to "make video matter". I'm excited for this new opportunity and look forward to hearing your ideas and as always, you can reach out to me at anytime at 917-523-4562 or email (mail@danrayburn.com).
Save
Save
Save
Save
Save
Save
Save
Save
Save
Save
Save
Save
Save
Save
Save
Save