Carriers Facing New Challenge Of Caching Huge Demand For Live Video Traffic
With all the talk of how much traffic video on demand services like Netflix and YouTube take up on carrier networks, one fact being overlooked by many is that live streaming traffic is exploding, and is harder to deliver. There are a lot of solutions and options in the market to cache VOD content, but trying to do the same for live streaming isn't easy since to date, vendors in the market haven't been focused on live caching platforms. It's one of the reasons why transparent caching provider Qwilt recently announced the first carrier solution I know of in the market specifically to cache live streaming. Following up that announcement, on Wednesday Qwilt updated its live stream caching platform to allow operators to cache and stream Twitch content from within the carrier network.
To put the growth of live streaming in perspective, just take a look at some of these impressive numbers. Live streams of video gaming championships are one of the fastest growing segments of the industry. Last year, the League of Legends Season 3 World Championship broadcast peaked at 8.5M simultaneous streams. Twitch, which is now on the Xbox One and PS4 has 1M people streaming live footage each month and some of the most popular gamers are doing 137,000 simultaneous streams just from their single account.
The growth of Twitch in particular is incredible with some saying that Twitch now commands 1.8% of peak U.S. internet traffic, and is in the top 10 list of video sites. Based on data from North American broadband operators who have deployed Qwilt's transparent caching platform, in December, Twitch was sixth on the list of top video entertainment sites and number one in the live category.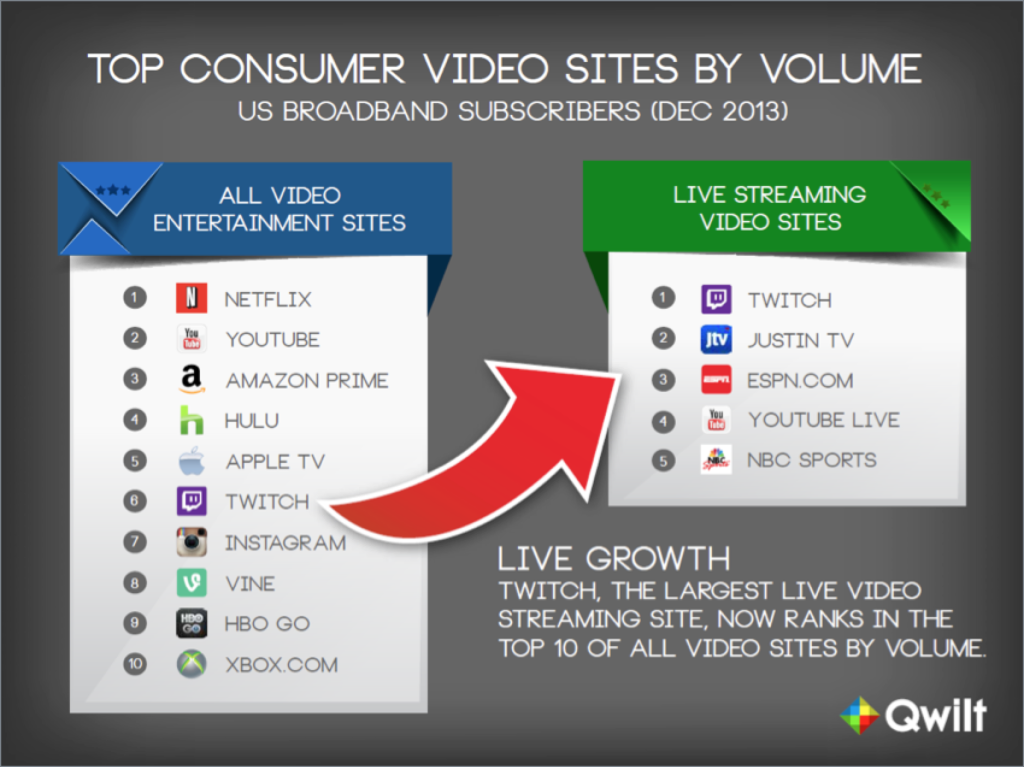 Seventy five percent of carriers I speak to are now asking about caching of live video streaming and Qwilt said they saw this problem coming month ago, and had been working on a solution since then. Twitch is growing so fast that they will be the keynote speaker in two weeks at our Streaming Media East show, on Tuesday May 13th in NYC.  Matthew Szatmary, Senior Video Encoding Engineer at Twitch will kick off the show and the day before, on Monday May 12th, Alon Maor, CEO of Qwilt will present on "Building The Open Architecture For VOD And Live Caching In Operator Networks", at our Content Delivery Summit event.
If you want more details, with data, on Twitch's impact on the Internet, check out Qwilt's very informative page at qwilt.com/twitch