Roku Has Shipped Nearly 8 Million Devices, Average User Streams 13 Hours Per Week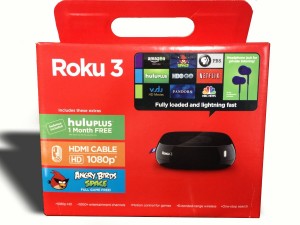 Roku has recently disclosed that to date, the company has now shipped "nearly 8 million devices" in the U.S., which is a combination of Roku boxes and their Roku Streaming Stick. The company won't say what the overlap is of people like myself who have more than one Roku box, so we don't know the exact number of unique households Roku is reaching. However, if we think that 25% of their customers have more than one Roku device, which seems like a reasonable percentage, Roku would then be reaching about 6 million unique households. According to the United States Census Bureau, there was an average of 2.6 people per household in 2012 so based on those numbers, Roku would be reaching somewhere around 15 million unique viewers. That's starting to become a pretty big number for Roku in terms of their reach. To date, the company has raised $140 million in funding.
Roku told me that most of the Roku boxes sold in the market, including those from years ago, are still being used today. Usually most electronic devices get retired and replaced by new ones pretty quickly, with the old one going into the junk pile. But in the case of Roku, I'm the perfect example of someone who always passes my older Roku's on to someone else to use, every time I upgrade. I can't think of another sub-$99 electronic device in the market that even though is years old, is still a device someone else wants to take off your hands and use.
In addition to the sales numbers, Roku also disclosed some other interesting details around usage:
Streaming on Roku devices grew by 70% in 2013 to 1.7 billion hours for the year
The average Roku player streams 13 hours per week though 25% of Roku players stream 35 hours per week (the average household TV watching from Nielsen is 34 hours per week)
Roku doubled the number of channels in the past year – currently at more than 1,200
Roku added YouTube, Showtime, WatchESPN, TWC TV, AOL, FOX NOW, Watch Disney Channel
Roku has 20 Roku Ready partners right now and will likely certify 125 devices this year
While there are close to a dozen $99 or less streamers in the market today, Roku still beats all of them hands-down when it comes to ease of use and the number of content choices available on their devices. Worldwide, Apple has sold more Apple TV's than Roku, (around 18 million based on their current run rate) but the majority of people who buy them do so because they are already using Apple's ecosystem, or use it for the AirPlay functionality. AirPlay, not online video streaming, is the primary reason consumers purchase the Apple TV. Roku is a real streamer, and once you get one, it's hard not to fall in love with it since it enables you to get so much premium content. I have both devices, on multiple TVs in my home and for streaming, Roku is always my go to box every single time. I use the Apple TV for AirPlay or iTunes audio streaming and really nothing else.
If you are trying to decide which box to get, this post will help you decide. Roku 3 vs. Apple TV: How To Pick The Right Box. Still have questions about the two boxes? Put them in the comments section here, and I'll try and answer them for you.