Content Delivery Summit – Call For Speakers Now Open: CDN, DSA, FEO and More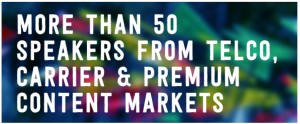 I have just opened the call for speakers for the 2014 Content Delivery Summit, taking place Monday May 12th in NYC. Now in its sixth year, the Content Delivery Summit is a one-day conference that brings together telecom carriers, service providers, premium content owners, and industry vendors for a detailed look at CDN platforms for the delivery of video and content acceleration. This is the place to meet those who are building out some of the largest public and private CDN deployments to date. Topics covered at the summit include:
Last Mile Video Delivery
Dynamic Site Acceleration
Transparent Caching
Front-End Optimization
Licensed/Managed CDN
Application Acceleration

Telco CDN Deployments
Mobile Content Acceleration
Cloud & CDN Business Models
Managing OTT Video Quality
CDN Federation Models
QoS Measurement Data
The summit will include case studies on real-world deployments, demos of new technology platforms and discussions on business model considerations. Previous speakers and attendees have included: Apple, Google, Netflix, Amazon, Comcast, Yahoo!, Time Warner Cable, Verizon, China Telecom, Deutsche Telekom, Telefonica, Orange, Korea Telecom, SK Telecom, Telecom Argentina, TeliaSonera, Telstra Global, Cox Communications, Charter Communications, ESPN, DIRECTV, AOL, YouTube, Viacom, eBay, LinkedIn and many others.
The deadline for submissions is February 21, 2014. If you have any questions on the submission process or would like to discuss your submission idea before you complete the form, please feel free to email or call me at anytime (917) 523-4562. As a one day summit, we have a limited number of about 50 speaking slots available.