Most Ecommerce Sites Holding Up Well, Some Like BlueNile.com Having Major Outages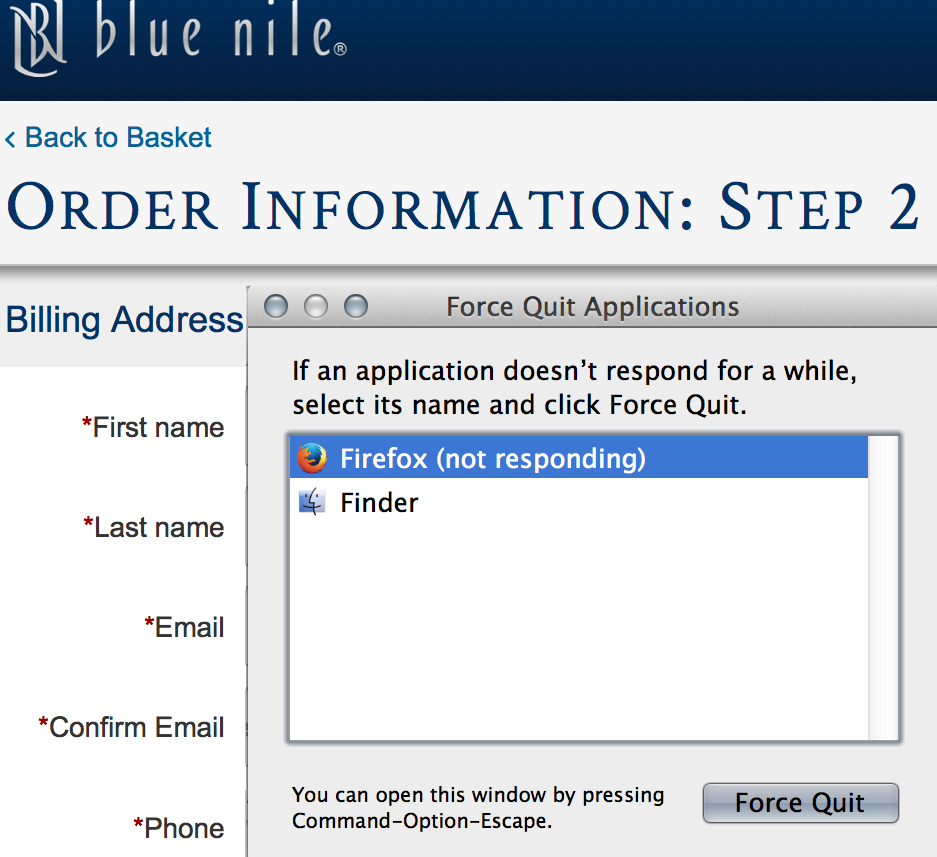 Over the past few days, I've been watching and personally using a lot of the major online e-commerce sites and so far, it seems most have done a good job of having their infrastructure ready for this year's online shopping crush. I haven't seen anyone on Twitter or Facebook complaining about any website problems with any of the big guys and I've used Amazon, Target, Walmart, Zappos, Columbia, REI and North Face with no problems. I have noticed it taking Amazon and Zappos longer than usual to send me confirmation emails of my order, but the websites themselves have been fast to load with no problems.
One website that isn't doing well is BlueNile.com. Every time I try to checkout, the website crashes the browser be it Firefox, Chrome or Safari. When I called the company they confirmed that "a lot" of people are complaining about the same thing, yet nearly six hours later, I'm still having the same problem. You would think the company would be more pro-active, but they haven't responded via their Twitter feed or via email as to when it will be fixed or with any updates. During a second call I placed to the company one sales person told me the website has recently gone an "upgrade" which has caused the problem, but they didn't know what the exact problem was. During checkout, each time the website tried to load content from "seal.stellaservice.com" and "secure.footprint.net" is when it would crash my browser so it looks to be more of a code/platform problem for Blue Nile rather than a capacity issue. I don't understand how an online only company like Blue Nile isn't prepared and ready for the busiest shopping week of the year. They lost my sale, so they must have lost others as well.
Adobe just released numbers showing how big mobile platforms were this year for shopping purchases saying more than 24% of online sales occurred on smartphones and tablets, a record increase of 118% year-over-year. They said iOS devices drove more than $543M and Android $148M in online. Have you had any problems shopping online? If so, let me know which website(s) in the comments section.