Adap.tv's Dan Ackerman to Kick Off Streaming Media West Conference With Keynote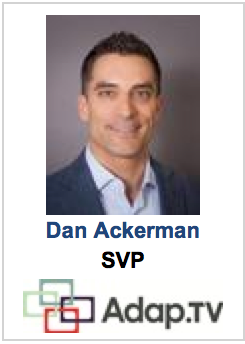 I'm pleased to announce that Dan Ackerman, Senior Vice President of programmatic TV for video technology provider Adap.tv, will kick off our annual Streaming Media West Conference and Exhibition, taking place November 19-20 at the Hyatt Regency Huntington Beach Resort and Spa, in Huntington Beach, California. Attendance to the keynote is included with a free exhibition pass.
Adap.tv, now a division of AOL Networks after AOL's acquisition in September 2013, most recently announced that Adap.tv and AOL's combined efforts topped comScore's U.S. Online Video Rankings for September. AOL served up 3.7 billion video ads during the month, the largest number by a single property ever recorded by comScore.
Ackerman leads a brand new business group within Adap.tv that is developing innovative programmatic, or automated, technologies that serve the TV and video advertising industries today and in the future when video has fully converged, regardless of screen. His keynote will focus on some of the massive shift in video advertising across all screens happening right now in video, particularly how it is bought and sold by advertisers and publishers, and how these changes have necessitated the need for content and media technologies that adapt as quickly as the consumption habits of digital video viewers.
Dan will be joined by more than 100 speakers from leading media, broadcast and MSO companies discussing the latest business, content and technology subjects around online video. You can register for an exhibits only pass and get access to the show floor, both keynotes and all the networking events, at no charge. And it's not too late to get a full pass to the show, using my own personal discount code of DR13, which gets you a two-day ticket to the show for only $595. #smwest