iOS 7 Download Traffic Overtaking Netflix Inside Carrier Networks
We all know that Apple's iOS 7 download is making up for a large percentage of the overall traffic going across the public Internet, but what about the impact this is having on last mile providers? According to data that transparent caching provider Qwilt has shared with me, some of their carrier customers are seeing iOS 7 and app downloads account for nearly 40% of all the traffic inside their networks. Below is a chart from one node, inside a North American based carrier showing that Apple downloads surpassed what Netflix videos were consuming in the way of bandwidth, last night.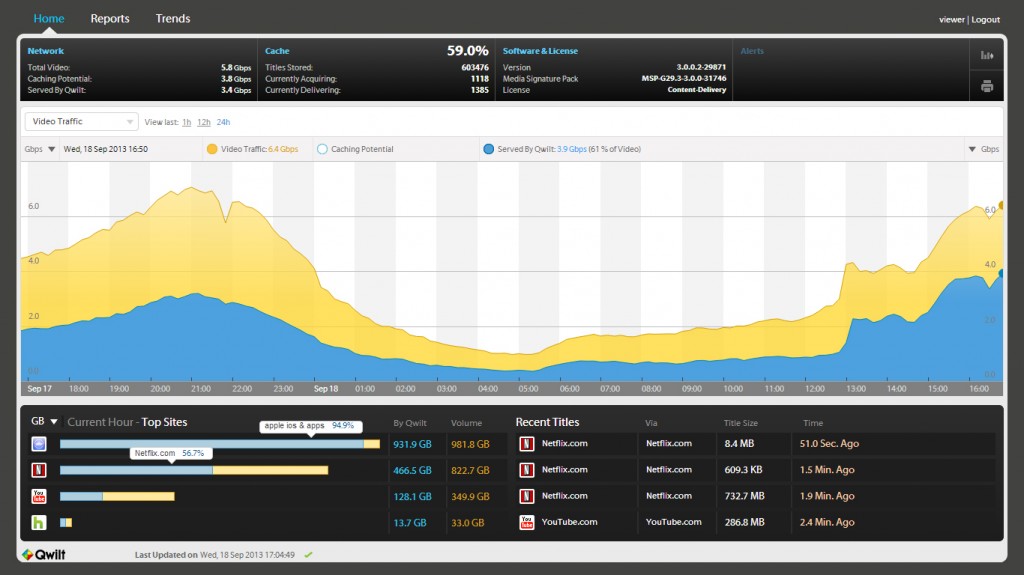 It also shows that for service providers that have deployed transparent caching inside their network, much of the traffic surge can be alleviated, with the chart showing that in this case, Qwilt's caching platform is handling 61% of all the traffic and even more important on a day like today, 95% of all Apple iOS downloads.
This is the whole reason why network operators are evaluating and deploying transparent Internet caching inside their networks to address a broader range of Internet content. The intent is two-fold. The first is to reduce the network infrastructure and bandwidth costs associated with over the top (OTT) content and large file delivery and the second is to differentiate their consumer broadband service and deliver better user performance. By eliminating any potential delays associated with the Internet or even the content origin, caching allows the operator to highlight their investment being made in the access network and deliver more content at top speeds.
One carrier using Qwilt's transparent caching solution said the performance has been fantastic in response to this latest iOS release. When iOS 6 was released they got hammered at the edge for several days, but with Qwilt's solution this time around, they saw a spike of about 25 minutes on their edge and then it dissipated, since it was being served it up from the cache. They also said they tested the download direct from Apple which took one hour, versus the 12 minutes it took to download locally from their cache.
Transparent caching technology probably isn't something many have heard about, unless you work for a network operator, but the technology is crucial in allowing last mile providers to deliver content by Apple, Netflix and other major content owners and distributors to consumers quickly and with quality. The market for transparent caching services will grow to $350M in the next three years and this article will give you an overview of how transparent caching works and it's role in the CDN ecosystem. You can also check out transparentcaching.com for all my articles on the subject.