Transparent Caching Market To Reach $350M By 2016, Average 30% CAGR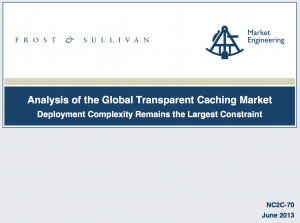 In addition to my role at StreamingMedia.com, I'm also a Principal Analyst at Frost & Sullivan. Most of our work consists of private research for customers looking to enter a new market, but we also produce quite a few reports each year that focus on the size of different products and services in the digital video ecosystem.
I've just released my latest report on the size of the "Global Transparent Caching Market", which also details the market drivers, restraints to market growth, product and pricing trends, competitive landscape, and market forecasts and trend analysis broken out by region of the world for the next four years.
Many telcos, multiple system operators (MSOs), and mobile operators are actively looking at transparent caching as a required element in their network to control over-the-top (OTT) video content consumption and to provide the best possible end-to-end user experience. It is a unique technology that simultaneously benefits a content owner, a network operator, and, most importantly, a broadband or wireless subscriber.
The industry will grow at a steady rate for the next 2 years but will then get a strong boost as transparent caching is natively built into broader products/solutions, resulting in wider deployment. As a result, the market's worldwide revenues should be close to $350M by 2016 and is expected to grow at an average compound annual growth rate of 30% percent from 2013 to 2016. Now a grown-up technology, transparent caching is the most cost-effective medium today for service providers to deliver OTT video with the kind of QoS demanded by consumers. Once considered a cost-savings initiative, it is now viewed as an investment, providing demonstrable return on investment by enabling service providers to better monetize their video services.
Copies of the report are available to any customer who has a subscription to Frost's Digital Media research service and anyone interested in getting a subscription can contact me for more details. Also, while many research analysts at other firms won't talk to someone unless they are a customer of that firm, I have and always will talk to any company who is interested in getting more details on any aspect of the video, streaming and content delivery ecosystem. You don't have to be a customer of Frost & Sullivan for me to take your call and do a briefing with you, so call anytime.