Encoding for Multiscreen Delivery: Presentation Available For Download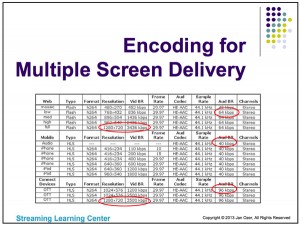 During his three-hour workshop at the Streaming Media East show in May, Jan Ozer did his usual great job of presenting best practices and tips on the topic of, "Encoding for Multiscreen Delivery". While we don't video tape the workshops, we do make the presentations available for download. Jan's presentation of 79 slides will teach you how to create a set of video files that will play on all devices, from smartphones to computers and OTT devices. It also outlines:
key concepts like protocol and container format and technologies like HTTP Live Streaming, DASH, and Dynamic Streaming
technical overview of the H.264 specification to identify those configuration parameters that impact quality and those that don't, and how they affect playback compatibility
technical requirements for single and multiple file delivery to Flash, HTML5, iOS, Android, Windows Phones, Windows 8, and the Apple TV, Boxee, Roku, and other OTT devices
learn the current encoding and delivery practices used by high-profile broadcast and corporate sites to help refine your technology decisions
You can also pick up a copy of Jan's new book on this topic here.