New Book Now Available: Producing Streaming Video for Multiple Screen Delivery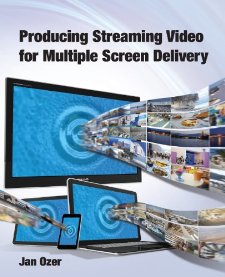 Streaming producer and compression expert Jan Ozer has just released a new book titled Producing Streaming Video for Multiple Screen Delivery. The new book is the successor to Ozer's highly-regarded Video Compression for Flash, Apple Devices and HTML5, which has been adopted as a textbook by several colleges and universities. Published two years later, Producing Streaming Video for Multiple Screen Delivery is nearly a complete rewrite, and at 433 pages, contains nearly 70% more content than the initial book. Amazon's currently selling it for about $35.
Jan's book will teach you:
The fundamentals of video streaming and compression, including adaptive streaming and H.264 encoding, and new technologies like DASH, HTML5 and HEVC.
How to configure a single group of files to distribute to computers, mobile and OTT devices, and when it's better to customize files for different target platforms.
How to most efficiently produce maximum quality video using tools like the Adobe Media Encoder, Apple Compressor, Sorenson Squeeze and Telestream Episode Pro.
How to choose an enterprise class encoder, with extensive discussions of workflow tools like Telestream Vantage and the ProMedia Workflow System from Harmonic.
How to choose between setting up your own streaming server or using an online video platform (OVP) and the most relevant questions to ask before choosing an OVP service provider.
The best technology options for producing a live event, from choosing an encoding tool or 4G delivery platform,  to choosing a streaming media server or Live Streaming Service Provider (LSSP) like Livestream or Ustream.
When to consider using a rich media presentation system like Sonic Foundry MediaSite or MediaPlatform WebCaster and how to choose between the available systems.
Which producers need to add closed captions to their streaming videos and how to do so.
If you're not familiar with Jan, he's been producing and encoding video since the CD-ROM days and has taught courses in video and streaming production since 1994. Jan has taught workshops and sessions at our Streaming Media conferences in NY, CA and London for more years than I can remember and has written or co-authored 16 books on digital video related topics. Jan shoots, edits and produces live webcasts, streaming media and DVDs for concerts, ballets and other events in southwest Virginia.
Jan is a true guru in this space, so if you want to learn more about producing and encoding video, get Jan's book. You won't be disappointed.