Come Test Out More Than 50 Different Streaming Devices and OTT Video Platforms, All In One Room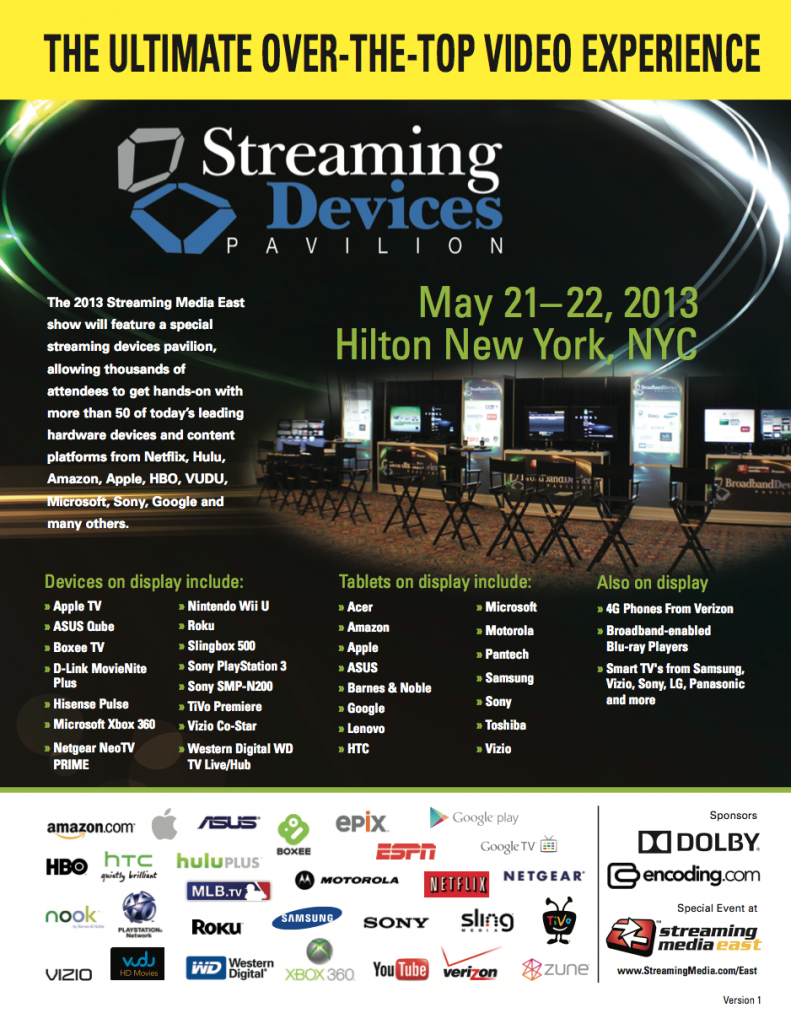 With all the smart TVs, game consoles, tablets and $99 streaming media devices in the market, the OTT world is crowded with options. Trying to figure out which box offers the best choice of content platforms, quality and cost can be confusing. That's why for the third year in a row we're bringing back the special "Streaming Devices Pavilion" at the Streaming Media East show (#smeast), May 21-22, letting attendees get hands-on with more 50 over-the-top (OTT) video devices and platforms, all in one room.
Want to see how Airplay works on devices? We have you covered. Interested to compare Netflix's HD video quality on the Roku 3 vs. Apple TV? You can do that. Want to see how streaming works to 4G phones and tablets?  Come test it out. Have questions about which Over-The-Air antenna works best? Get those questions answered. Think of the Streaming Devices Pavilion as your own personal living room and put these devices to use!
The Streaming Devices Pavilion provides attendees with the opportunity to view the largest collection of over-the-top video devices and platforms that you can walk right up, experience them hands-on, and do it all for FREE. If you've ever wanted to compare OTT services and devices, side by side, in a real-world setting, this is the place to do it. The pavilion will be staffed by a team of device gurus who will be on hand to answer questions and we'll also be giving away thousands of dollars in free gear.
Attendees who visit the pavilion will also receive an updated chart that gives the specs of each streaming device and lists which content platforms they support. Last year's chart can be viewed at www.streamingmediadevices.com and this year's chart will be updated to include all the new boxes in the market.
Devices and platforms available for testing will include the following:
Content Platforms: Apple, Netflix, Hulu Plus, Amazon Instant Video, HBO Go, Epix, Vudu, YouTube, Google TV, Google Play, ESPN, MLB.TV, Xbox LIVE, PlayStation Network, NHL GameCenter, NBA League Pass, Redbox Instant by Verizon, and others.
Streaming Devices: Apple TV, Roku 3 (all models), WD TV Live (all models), Boxee TV, D-Link MovieNite Plus, Netegar NeoTV Prime, Microsoft Xbox 360, Sony PS3, Nintendo Wii U/Wii, ASUS Qube, Hisense Pulse, Ouya, Vizio Co-Star, Seagate GoFlex TV, TiVo Premiere, Slingbox, and more.
Tablets: Apple iPad 3, Apple iPad Mini, Kindle Fire HD, Nook HD, Nook HD+, Nexus 7, Nexus 10, Samsung Galaxy Tab 2, Samsung Galaxy Note, Microsoft Surface, Sony Xperia, ASUS Transformer, Motorola Xoom, Acer Iconia, and others.
Also: A variety of TVs and Blu-ray players from Vizio, Sony, Samsung, LG, Panasonic, Sharp, Phillips, Toshiba, Magnavox, and Sylvania, as well as 4G phones from Verizon and Over-The-Air antennas from Mohu, Wineguard and others.
You can register to attend the device pavilion simply by going online and registering for a FREE exhibits pass. That's it. It's quick, easy, costs you nothing and you may even go home with some new gear!
And if you are a member of the media, register to attend the event and I will be happy to personally walk you through the devices and platforms, point out the strengths of each box and give you all the details to need to know to compare these devices and platforms in the market.
There is nothing like this any place else in the industry and no show allows you to get hands-on with so much hardware and content. If your company has a device you think I should add to the pavilion, reach out to me and let me know.
A big thanks to Dolby and Encoding.com for sponsoring the pavilion. We have a few sponsorship spots left, so if you want your brand on all the signs, email blasts, printed device chart and all the other places we promote the device pavilion, contact me for more details.