Boxee's New DVR In The Cloud Device To Run On Amazon Web Services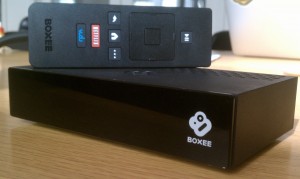 On Tuesday, Boxee introduced a new $99 box called the Boxee TV that has dual-tuners, WiFI, ethernet and connects to Boxee's cloud based DVR platform. Consumers can get local unencrypted basic broadcast channels over-the-air, record them in the cloud with no storage limitations and also stream video from premium content services like Netflix and Vudu. Launching on November 1st in eight major cities in the U.S., the monthly DVR service will cost $14.99 a month and Boxee also plans to offer what they are calling a "freemium" option, allowing users to get a limited number of DVR cloud recording hours and streaming hours to devices, before they have to sign up for a monthly service.
While there has been a lot of talk about the new hardware, little has been mentioned about how the service will record, store and stream content. Boxee's been working on the new cloud-based service for 18 months and has an exclusive partnership with Amazon, building out their entire video ecosystem using Amazon's platform. Unlike previous cloud based DVR services from cable companies that simply recorded everything in the cloud on their own, Boxee is relying on end-users bandwidth to record and upload content to Boxee's network. Boxee's says they have spent a lot of time optimizing the way they buffer the stream being sent into their network and the way they optimize the upload and storing of content. Boxee says that as long as consumers have 1Mbps of upload throughput, the Boxee cloud system will work in a very reliable fashion.
Video will be recorded using the H.264 codec, at 720p and playback will be somewhere between 1-4Mbps using HLS and delivered by Amazon's CDN service, CloudFront. Boxee says they won't initially use adaptive bitrate streaming, but will move to that over time. Playback will take place using a HTML5 web player, which means Boxee won't need to develop apps for any mobile devices. While Boxee will still offer support on their current Boxee box by D-Link, the company will officially stop selling the unit. Boxee plans to offer a special promotion to existing Boxee Box customers for the new $99 Boxee TV to make the transition easier, the details of which will be announced shortly.
As to how many $99 boxes Boxee expects to sell, the company isn't saying. But in a discussion I had earlier in the week with Boxee's CEO, the consensus is that Boxee hopes to sell a few million boxes in the next two years. That's a number I was happy to hear them tell me as it means Boxee's management is being very realistic about the market opportunity and setting correct expectations. With Roku having sold under 4M units and Apple around double that to date, I think Boxee has a very good shot at selling at least a few million in the next 24 months.
Updated 10/22: Boxee said that there will be a limit on how long recordings are stored for non-paying users, but that paying subscribers will be able to keep their recordings in the cloud for as long as they like. Also, Boxee will enable 5 concurrent streams per account, so multiple people in the household can all stream different content at the same time.
Boxee will release additional details shortly on where the box will be sold and which big box retailers and online websites they have partnered with, with some being an exclusive partnership.