Yottaa Launches New CDN For Dynamic Site Acceleration, Targeting SMB Market

Boston based Yottaa (pronounced "Yo-ta") has announced a new dynamic site acceleration service aimed at the small and medium sized business (SMB) market. For those who have never heard of the company before, Yotta was founded in 2009 and for the last year, has primarily been offering a website performance monitoring service. The company raised $4M in a Series A round and now employees 40 people.
Unlike many of the larger CDNs who target enterprise customers with their DSA offering, Yottaa is going after small and medium sized customers who can't afford a larger vendor like Akamai. Yottaa says they have more than 75,000 websites that use their website performance monitoring service, with the typical paying customer spending about $500 a month. The company says 36% of their customers are small e-commerce websites and 40% of their revenue comes from outside the U.S.
Yottaa's new dynamic site acceleration platform is deployed across 20 data centers in North America, Europe, Asia and Australia and the company is adding a location in Sao Paulo later this year. The company offers a pay-as-you-go model and doesn't require long-term contracts. Below is a slide that outlines the features of their new DSA service.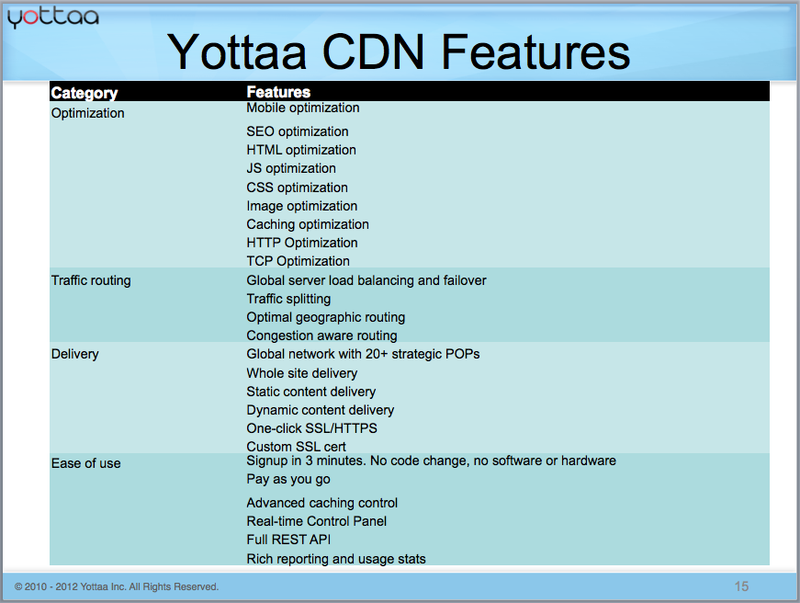 Yottaa sells their services direct to customers but most of their business comes from partnerships with hosting companies and cloud providers who act as re-sellers. While Yottaa's revenue was a "few million" dollars last year, the company expects they can more than double revenue this year as they see continued demand for their new DSA service.
The CDN space sure is getting crowded and we're going to see even more companies entering the market with dynamic site acceleration services later this year.