Get Hands-On With More Than 50 Over-The-Top Video Devices & Platforms, All In One Room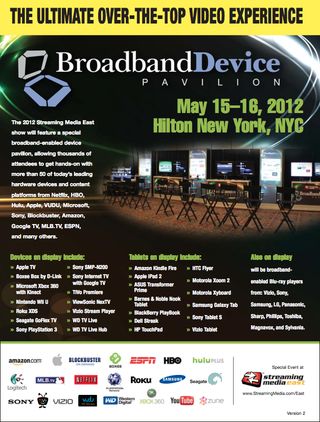 The 2012 Streaming Media East show (May 15-16 in NYC) will feature a special broadband-enabled device pavilion, allowing thousands of attendees to get hands-on with more than 50 of today's leading streaming devices and Over-The-Top video content platforms. It is the only show where you can try out all of these devices and platforms in action, compare them side-by-side and get your questions answered – all for free.
Simply register for an exhibits only pass and come test out any combination of gaming consoles, stand-alone streaming boxes, smart TVs, connected Blu-ray players and tablets that you want. Additional devices and platforms will be added leading up to the show. Confirmed devices/platforms include:
OTT PLATFORMS: Netflix, Hulu Plus, HBO GO, iTunes, VUDU, Xbox LIVE, Amazon Prime Streaming, DISH/Blockbuster, Sony PlayStation Network, Google TV, MLB.TV, NHL, EPIX, UFC, ESPN, YouTube, OnLive.
DEVICES: Apple TV, Boxee Box (with Live TV dongle), Xbox 360 (with Kinect), Nintendo Wii, Roku XDS, Seagate GoFlex TV, Sony PS3, Sony SMP-N200, TiVo Premiere, ViewSonic NexTV, Vizio Stream Player, WD TV Live, WD TV Live Hub.
TABLETS: Amazon Kindle Fire, Apple iPad, ASUS Transformer Prime, B&N Nook Tablet, BlackBerry PlayBook, Dell Streak, HP TouchPad, HTC Flyer, Motorola Xoom 2, Motorola Xyboard, Samsung Galaxy Tab, Sony Tablet S, Vizio Tablet.
CONNECTED TV PLATFORMS: From Sony (BRAVIA Internet Video), Vizio (V.I.A.), LG (NetCast), Panasonic (Viera Connect), Philips (NetTV), Samsung Smart TV, Sharp (Aquos Net+), Toshiba (NetTV). 
CONNECTED BLU-RAY PLAYERS: From Samsung, Philips, Sony, Vizio, LG, Panasonic, Sharp, Toshiba, Magnavox and Sylvania

Attendees will also have the chance to win many of these devices and other giveaways during the two-days of the show so register online and come get free access to the largest collection of OTT devices and platforms all in one room.