Streaming Media East Program Now Live: Speaker Placement Starts Today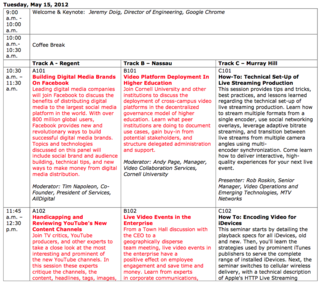 I've been a little behind on blogging lately as I have been hard at work finalizing the advance program for the Streaming Media East show, taking place May 15-16 in NYC. I'm happy to say the program is now done and speaker placement will start today. You can see a PDF of the program here and all sessions in red are open. I now have to sort through hundreds of submissions and work with moderators to place speakers over the next eight weeks. If you see a session in red you want to be involved on, send me an email.
One thing you may notice is that we have a lot of stand-alone how-to presentations by single presenters this year and we also added a fourth track to the conference. For those that may be wondering where all of the sessions are pertaining to infrastructure related topics, we'll be covering that segment of the market the day before the East show at the Content Delivery Summit, taking place Monday May 14th. I have just started working on the advance program for that show and will have something to share in a few weeks.
If you want to propose a speaker for one of the sessions on the program you are welcome to do so, but please keep in mind that I get hundreds of submissions. So sending me an email saying you want someone to speak but don't include any bio on the speaker, company background, details on what previous conferences they have spoken at or which topics they can speak to, is a sure way not to be considered. If you are serious about placing them on a panel, please detail why they are an expert on that particular topic and what they bring to the table. As always, all vendors who bring customers will always get picked before vendors that don't bring customers.