EdgeCast and PeerApp Team Up To Combine CDN With Transparent Caching
Transparent caching is a topic I have been writing a lot about lately [see: "A Summary Of Transparent Caching Architectures" – "An Overview Of Transparent Caching and Its Role In The CDN Market"] and is one of the hottest subjects of discussion when talking to carriers, telcos and ISPs in the market. While there has always been a lot of seperation between vendors who sell carrier grade CDN platforms and vendors selling transparent caching solutions, last week's announcement by PeerApp and EdgeCast shows that line is starting to blur.
The EdgeCast and PeerApp collaboration combines both EdgeCast's licensed CDN platform with PeerApp's UltraBand transparent caching platform, giving carriers the ability to cache all content, managed and unmanaged, across their network. Of course the goal is to allow the carrier to provide a better QoS, reduce their internal costs, and in the long run, provider carriers with a platform that powers new content services. While today it's about cost savings and quality of service, soon it will be about revenue generation and new content services.
The combined product offering will allow customers to cache up to 70% of the all traffic on their network resulting in huge cost savings and putting carriers back in control of the bits going over their network.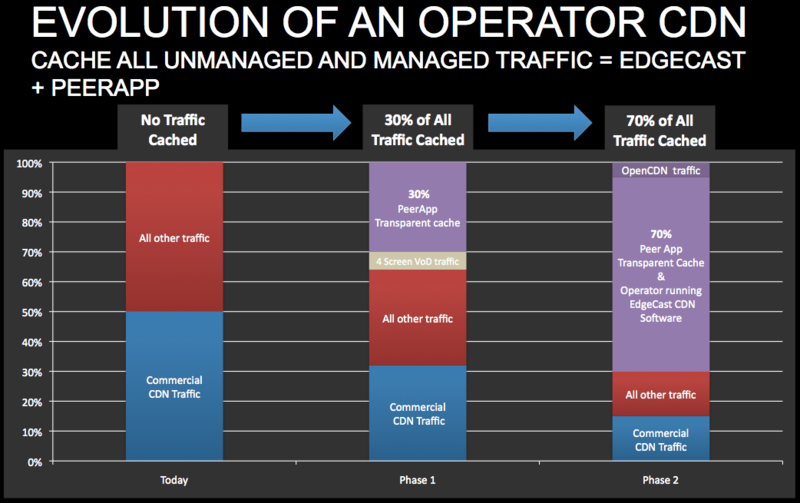 While both solutions from EdgeCast and PeerApp are still sold as separate contracts, the companies are working together to give customers one platform for operations, management and reporting integrations so content customers have more visibility into the outer edge of the network and carriers have more control of the traffic.
Carrier based CDN software is  good at what it does, serving content to subscribers quickly, and in the process alleviating costs for service providers, but there's an enormous amount of traffic that it can't serve, and that's where the value of transparent caching comes in. Stand-alone, both products fill a need in the market. But by combining what EdgeCast and PeerApp do, it now provides a real solution for carriers who are desperately trying to control managed and unmanaged content on their network. I suspect we'll see more CDN and transparent caching companies teaming up with one another shortly.