Blue Coat's New Transparent Caching Appliance Adapts In Real-Time To Changes In The Web
If you needed any more indication that transparent caching is hot, last week Blue Coat announced their new CacheFlow 5000 appliance, targeted at service providers looking to get greater throughput and cache storage for video. Blue Coat says their CacheFlow appliance, originally released about 18 months ago, is now deployed in "nearly 50 service provider networks" and that these customers have, on average, "achieved 40-50% bandwidth savings on general Web traffic".
The name CacheFlow might sound familiar to some folks and that's because the company was one of the original caching pioneers, along with Inktomi and F5 Networks, that launched around 1996. While all of the vendors during that time tried selling caching solutions, the market was simply too small and the product was too early in the market. CacheFlow changed their product lineup to focus on security solutions in late 2002 and renamed the company Blue Coat, but retained the original CacheFlow technology and brand, which is now a product within the company.
Of course, there are a lot of transparent caching solutions out in the market today, but Blue Coat is approaching the market a bit differently with a feature they call their CachePulse cloud service. Very simply, CachePulse delivers on-the-fly caching rule and instruction updates to deployed CacheFlow appliances and it gathers via heartbeat data, changes in the web, allowing Blue Coat to pro-actively optimize the delivery of content. CachePulse adds site-specific or content-specific caching rule and instruction updates based on their learning's and input into their cloud.
Blue Coat says the competition addresses these changes in the web with software updates that usually require a full reboot of the system, which of course is never popular in a telco environment, or requires the customer to manually create a custom caching policy to address a web change. This means the customer needs to know that a change is needed, needs to have the technical skill and know-how to create custom policies and then support that custom rule long-term without creating support issues or breaking the web experience for their users as content on the web continues to change.
To me, the most interesting aspect of CachePulse is that it also leverages all of CacheFlow's roughly 50 customers around the world and hundreds of deployed appliances, providing inputs and learnings into the CachePulse cloud. Basically its an intelligent system that tells operators and Blue Coat how the web is changing, in real-time, so that CacheFlow can adapt to that change the fly. Below is a slide that illustrates how it works.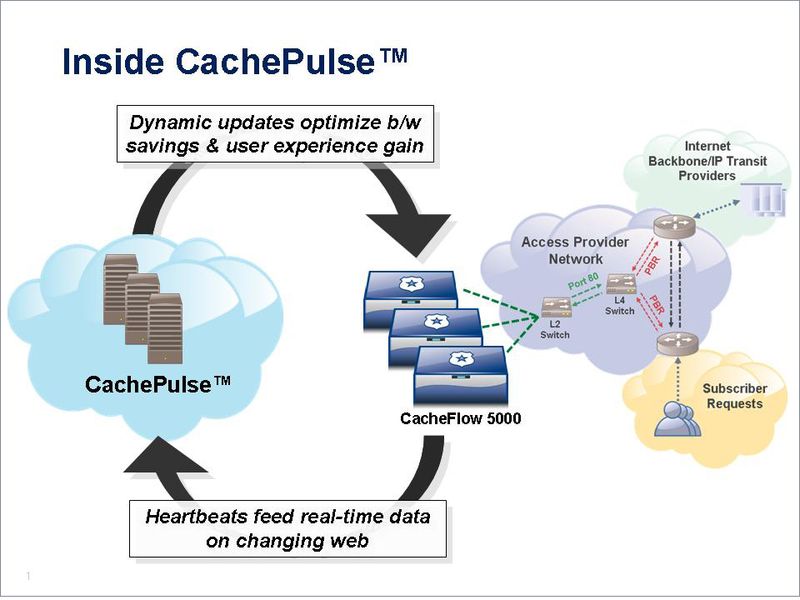 Though getting increasingly more traction within operators, many are still not familiar with transparent caching solutions. In many cases where the service provider might be aware of transparent caching, the full value proposition might still not be clear. Currently, it is the CDNs and not the operators who make their money from content publishers who typically pay based on volume of content delivered. Operators are fast realizing that they are leaving money on the table by simply looking at video growth as a traffic problem and not an opportunity to monetize. As a result, service providers are accelerating the roll-out of and investing heavily in transparent caching solutions along with platforms that will enable them to build out their own CDN services.
For Blue Coat, and other vendors in the market, this growth is exactly what they have been waiting for, as service providers demand that these platforms deliver more content, with better performance, at a reduced cost. At Frost & Sullivan, we expect the worldwide transparent caching market to reach $708.3M in revenue by 2015, which puts Blue Coat and other vendors in a nice position for the expected market growth. For a more detailed description of CacheFlow, you can see a video overview of the product on the Blue Coat website.