Sony's Google TV Is Here: Unboxing With Photos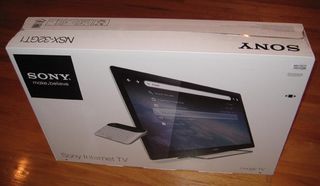 While Sony said customers would have to wait until Saturday to buy the Sony Internet Google TV, I was able to pick one up Friday afternoon at my local Sony Style store. All it took on my part was showing a real interest in the TV with an employee and telling him I didn't want to have to come back the next day and he sold it to me on the spot. The store I went to said they had about 50 units in stock and that another shipment was due to arrive on Monday.
I've spent the past few hours setting it up and I'll have a lot more comments and reviews next week. My initial impression is that the Google TV platform works quite well, but the setup of the TV gets an F. Horrible setup with terrible online support. I've been using it for nearly half a day now and I still can't get some of the basics to work properly. I'll talk more about that shortly, but in the mean time, here are unboxing photos of the 32″ model.