Telestream To Acquire Anystream Business From Grab Networks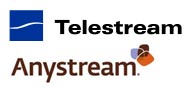 Back in January I wrote that Grab Networks was in talks to sell off their Anystream product Line and speculated that Telestream would be the likely buyer. In a call this morning with executives from Grab Networks, Telestream
and Anystream, the companies confirmed to me that Telestream has agreed to acquire the Anystream business from Grab Networks. Terms of the deal were not disclosed and I haven't yet had the chance to
ask around to try and determine the value Telestream placed on
Anystream's business. While both companies have agreed to the acquisition terms, it will be a few more weeks before the deal closes and it is official.
While many acquisitions tend to be complex, this one is the opposite. The value to Telestream in this deal is they now manage Anystream's line of Agility and Velocity products, which are enterprise class transcoding and media management platforms. This is a perfect fit for Telestream's core business and allows them to continue their push into the enterprise vertical. While some might think that Telestream and Anystream already compete, there is not much overlap between the two and Anystream's product line gives Telestream new products to add to their portfolio.
Telestream also gets a company that was profitable within Grab Networks and gets access to 600 customers across 38 countries. About 30 of Anystream's employees including those in engineering, sales and marketing will be added to Telestream's workforce, which will total about 160 employees once the deal is official. Telestream says they are hard at work to integrate Anystream's product line and branding within the company and expects to be able to roll out a unified message to the market around IBC.
For Grab Networks, selling the Anystream business really helps them divest a product line that was no longer part of their core focus. The deal now gives Grab Networks even more resources and capital to focus on their core product, which is a multi-platform video syndication network and video management offering.