Sonic Solutions To Acquire DivX: Their Success Or Failure To Be Decided By The Studios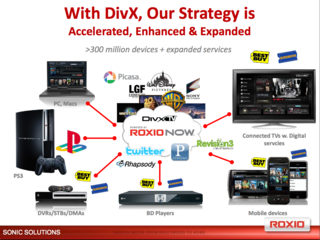 This morning Sonic Solutions, best known for the backend white-label platform that powers Blockbuster and Best Buy, announced plans to acquire DivX in a cash and stock deal valued at $323M. The deal, which is subject to approval of the shareholders of both companies is expected to close in September.
For DivX, it marks the end of a long effort to find a buyer for the company and potentially positions their technology as part of a larger service offering in the market. The biggest concern with a deal like this is that both Sonic and DivX
are relying on the studios in order to be successful. Studio executives need to change their thinking and start offering
movies in the quality consumers want, at the price they want, and for
playback on multiple devices, but have so far been reluctant. While
DivX has a great track record of getting on lots of devices, their
commercial success has been limited by the fact that content owners have
not exactly made a lot of their content available for purchase in the
DivX format. It's been less than a year since some of the major studios
finally put some content online, but there hasn't been much mentioned
from any of the companies since then.
While I do think that there are some synergies for both companies on paper, some of the benefits that Sonic lists in their press release don't make sense to me. I see the value to Sonic in wanting to get their platform on devices, something DivX has been successful at, but don't agree that it now provides them with a, "more extensive solution for Internet video delivery including the dominant tools for content preparation in the cloud." DivX has never been successful as a stand alone video format on the web and that's not a market it can win. In fact, for all the video I watch each day, I've personally never had to download the DivX player to see any of it.
For DivX, web based video not been their focus and their success has really been on the device front where they say their technology, "resides on over 300 million devices shipped into the global market". The "cloud" based services that Sonic mentions in their release simply refers to where content is stored and how it is delivered, but that's not an area DivX has ever been involved with. Sonic may use DivX's technology to try and get into that market, but I suspect they will be best served only focusing on using DivX's deep relationships with the CE manufactures to get their RoxioNow platform on devices.
The thing that worries me when I see a deal like this though is how the release and associated documents that go with it make it look like the two companies now cover 100% of the market and somehow rule the world. The Sonic press release mentions over-the-top (OTT) video, cloud based services, retail storefronts and every type of device you can think of. I get the sense they want to be everything to everyone, for every device that can play back video.
On paper, some of the synergies between the two companies clearly makes sense. But Sonic's success or failure as a company is going to come down to whether or not the studios are willing to truly adopt digital offerings and start listening to consumers. Today's video offerings are not being held back in any way because of technology or any kind of platform limitation but rather by the studios themselves who still have not truly embraced digital.
Related:
– Sony's Day-And-Date Strategy: Stream Movies For $24.95, For 24 Hour Rental
– This Is Just Stupid: Digital HD Downloads Still Cost More Than DVDs
– Movie Studios Just Don't Get It, Part IV: Pay More For Movies On USB Drives